News
Scandinavian Star fire not sabotage, commission rules
---
This article is more than 6 years old.
The long-running saga of the fire aboard a vessel sailing from Norway to Denmark has taken yet another new turn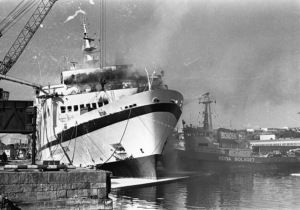 A Norwegian commission of enquiry has been looking once again into the 1990 fire on the car and passenger vessel Scandinavian Star that cost 159 lives.
The ship was on its way from Oslo to Frederikshavn when a fire broke out in a pile of bedding at around 02:00.
Many different theories
Ever since the fateful night, there have been a number of theories as to what started the fire.
Investigations soon afterwards pointed to how there were not one but several fires at different places on board the ship, and it seemed likely that they had been started deliberately.
Norwegian police initially laid the blame on a Danish lorry driver who had previous convictions for arson and who died in the fire himself, but these charges were later dropped.
In 1993, three people – the captain, shipping company director and owner of the vessel – were convicted of contravening the regulations on ship safety.
Most recently, in February 2016, the Danish accident investigator Flemming Thue Jensen broke 26 years of silence to suggest that two members of the crew were responsible.
READ ALSO: Retired ship inspector reveals truth about Scandinavian Star tragedy
A Norwegian police report from the same year concluded it was impossible to say at that time who the perpetrator – or perpetrators – behind the fire were.
Overheating may be the reason
The Norwegian commission of enquiry's report today concluded that the fire spread catastrophically because of overheating in the ship's steel construction, the Norwegian news bureau NTB reports.
The commission were unable to find any evidence that pointed to the fire being started deliberately as part of an insurance fraud.