News
Insects on the breakfast menu at Danish hostels
---
This article is more than 6 years old.
As part of the drive towards more sustainable eating habits, a Danish chain is offering worms and grasshoppers to its guests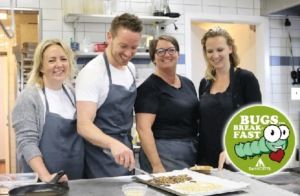 Three Greater Copenhagen branches of Danhostel – in Amager, Bellahøj and the city centre – are taking an untraditional approach to the morning menu.
As well as the full English or continental, from June 7 each of them will offer items in the buffet that include insects.
READ ALSO: Insekt KBH: Sustainable novel food
These include super muffins with apple, apricot and almonds made using flour ground out of worms; baked wax moth larvae with paprika; and grasshoppers prepared with lime.
The hostel chain is working in close co-operation with Nina Askov from Buglady.dk, who has a degree in nutrition and health.
Moving towards more sustainable eating
"We've always placed a lot of importance on sustainability. Insects for breakfast is a good initiative, and now we're going to find out if it hits the spot with the public and whether we can extend it to more hostels," Ole Andersen, the chief executive of Danhostel, told TV2 Lorry.
Referring to the specific project, Askov added "We've said for a long time that we should eat insects because it is good for the environment, climate and animal welfare. Now we are moving on from talking and writing about insects to using them in our everyday life."
Better for the environment
Proportionately, insects contain as much protein as fish and meat. They also contain fatty acids such as Omega 3 and 6 and are rich in fibre, minerals and vitamin B-12.
Less energy is needed to produce them, and they release far less harmful emissions than traditional farming.
A new Danish study reveals that 75 percent less CO2 is emitted when crickets are bred rather than chickens, according to Videnskab.dk.