General
NorthSide Day 3: Radiohead close out festival with a bang
---
This article is more than 6 years old.
Despite the weather, those who attended NorthSide 2017 to the bitter end got more than their money's worth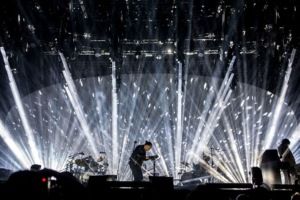 I have to admit that by the time Sunday came around I felt pretty 'festivaled out', so I decided to rest up during the day in order to be fully prepared for Radiohead.
READ ALSO: NorthSide Day 2: A walk down memory lane and an expletive-driven blitzkrieg
I was looking forward to hearing the band with great anticipation, since purely by chance I had been one of the lucky ones who saw them live at Heyday 02 at the Roskilde Festival grounds in August 1995. They were supporting Neil Young and I'd never heard of them.
I was so impressed by their set that the day after the concert I went out and bought their album 'The Bends', which had just come out, and I've followed them ever since.
Apres moi le deluge
The sky was grey, but at least it was not raining – or not yet, anyway! The band were delayed coming on, and more or less as soon as Thom Yorke opened his mouth and went into 'Daydreaming', the heavens opened. It was pretty much torrential rain from then on.
However, Yorke and the band might have just have had something to do with it, as there were at least two songs performed with somewhat prescient lyrics: "Rain down, rain down, come on rain down on me …" from 'Paranoid Android' and "Broken hearts make it rain …" from 'Identikit' on 'A Moon Shaped Pool'. And boy, didn't it just …
The setlist was an extremely generous one and not just a plug for their latest album. In fact, only four out of the 22 numbers came from 'A Moon Shaped Pool'.
Old bottle, new wine
I was struck by just how well they played some of the oldies – the tunes fitted like well-worn shoes. The concert sound was excellent, which helped a lot. Already on 'Lucky', I heard a bassline that I'd not noticed before on the album.
One of the reasons that Radiohead are so good is that they are not afraid to experiment and challenge the listener; this is no mere rehashing of the hits by rote.
A wealth of talent
The band utilise the full arsenal of musical genres from grunge to jazz, folk and out and out rock – all of which come together in a natural way.
Thom Yorke is not just a lead singer – he also plays guitar and piano. Johnny Greenwood, as well as being a superb lead guitarist, also doubles on electronics and percussion. With two drummers, two guitarists and a bassist, the band had an extremely full sound.
The light show and visuals were also a thing of great beauty, and its effect was enhanced by the falling rain caught in the beams.
One of the more cryptic performers when it comes to between-number announcements, Yorke did thank us all for standing in the sheeting rain for the duration. And after about an hour and a half, and 17 numbers culminating in 'Street Spirit (Fade Out)' it was all over – or was it?
A fitting climax
The band came back on and gave a generous encore consisting of five songs, two of which – 'Paranoid Android' and 'Karma Police' – came from what might be their best-loved album, 'OK Computer'.
It was clear that the audience appreciated them. The final crowd hands-in-the-air a cappella sing-along to 'Karma Police' was truly a thing of beauty.
It was a canny move from NorthSide to secure Radiohead as the closing act and the band certainly delivered the goods.