General
The boy wonder, the club stirrer and the troop rouser – all destined for Copenhagen
---
This article is more than 6 years old.
A number of top music stars have confirmed upcoming concerts in Copenhagen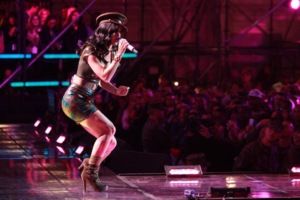 Big name artists are descending upon Denmark like a swarm of locusts – at this year's Roskilde Festival and beyond.
Fall's hip-hop harvest
What he might lack in talent, he makes up for in tattoos and volume. American rapper Machine Gun Kelly has announced an October 19 concert at Vega (tickets cost 265kr, via Ticketmaster).
However, Vega's October line-up may see Kelly eclipsed by compatriot Nelly, creator of mid-2000s hits such as 'Work It,' 'Pimp Juice' and the eternal 'Hot in Herre'. Despite waning in popularity in recent years, Nelly's ability to revive the feverish club atmospheres of his golden age is not to be doubted.
Tickets for Nelly's show on October 30 cost 295 kroner and go on sale at 10:00 on June 16 at Ticketmaster.
Meanwhile, Atlanta-based rap triumvirate Migos, the creators of viral hit 'Bad and Boujee,' are taking over Copenhagen's Tap1 on August 17 – tickets symbolically priced at 420 kroner via Ticketmaster.
Top pop hits on deck
Harry Styles, eternal pretty man and beloved bard of swooning youth, has announced a performance at Copenhagen's Royal Arena on 19 March 2018. His artistic secession from launchpad One Direction recently yielded the self-titled debut 'Harry Styles', which stirred controlled enthusiasm from critics. Tickets for Styles' show, sure to be much sought-after, begin at 350 kroner and are up for sale from 10:00 on June 16 via livenation.dk and ticketmaster.
Also announcing a 2018 date is Katy Perry, who will grace Royal Arena on June 8 as part of a world tour sparked by the release of her fifth album, 'Witness'. Tickets for Perry are available now for 395 kroner a pop – via Ticketmaster and Perry's official website.