News
Check your lug nuts before driving off, police warn drivers
---
This article is more than 6 years old.
In the last few weeks, several Danish motorists have experienced potentially lethal situations due to loose wheels, and cyclists might have been targeted too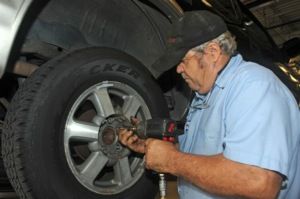 It may be just a boyish prank or there might be something more sinister behind it, but during June, there have been 38 instances of wheel-tampering reported in five different police districts in Denmark.
In all of the cases, the lug nuts that secure the wheels of a car have been loosened, DR Nyheder reports.
A very serious business
"There might be some who think of this as just a prank, but we are taking it much more seriously. We regard it as an infringement of the Danish penal code because people's lives are being put at risk through this type of criminality," said Martin Bjerregaard, a spokesperson for Mid and West Zealand Police.
In this area alone, there have been 16 incidents reported by concerned citizens, and in the western district of Copenhagen, Vestegen, the police have received four reports.
The first reports started coming in during May, but gathered momentum when motorists began sharing their experiences on social media.
A close shave
Fortunately, up until now, there have been no fatalities. However, on Saturday, a 19-year-old motorist had a close call. He was driving along when he heard an odd noise and shortly afterwards, his left front wheel appeared in front of the car and rolled off into a field. The car ended up in a ditch and the young man was taken to hospital with whiplash injuries.
Although there have been several offers of help from citizens, the police have been unable to find the culprits.
"The police have to admit to being stumped on these cases. We don't have many clues, despite having examined the cars involved," said Bjerregaard.
"Our best bet is getting help from concerned citizens who notice something suspicious," he added.
Check your car
The police advise all motorists to conduct a thorough check of their lug nuts before going anywhere in the car.
"It's always a good idea to check your vehicle before driving off. If there are any signs that it has been tampered with, then contact your local police force immediately," said Mogens Lauridsen from Vestegens Police.
And your bicycle?
And there have also been a few cases of bicycles being tampered with in a similar fashion.
In late May, a young Dane named Simon Langkjær uploaded a photo of his bloodied face onto Facebook after his front wheel came off whilst he was cycling. He is adamant the crash was caused by somebody loosening the nuts on his front wheel.
"I was riding home from work when my front wheel suddenly came off my bike as I passed over a speed bump. I had no time to realise what was happening and I fell face-first into the asphalt," he wrote.
Langkjær, who was taken to hospital, broke his nose, suffered several lesions on his face, lost a tooth and got concussed.
Several commenters on social media then concurred they had heard of similar incidents occurring in the capital.