News
Denmark looking to spring surprise in Euro 2017
---
This article is more than 6 years old.
Danes hope team spirit can guide them through Group of Death in Poland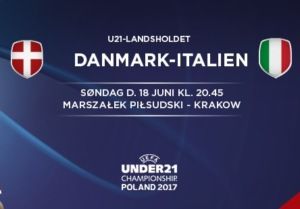 When the Danish men's under-21 football team plays its first match at Euro 2017 in Poland on Sunday, they will have their backs to the wall.
After all, when a team ends up in a group with Germany and Italy, the odds are never brilliant. Toss a strong Czech Republic side into the mix and Denmark will have to perform to its very best in three consecutive games to have any chance of progressing from Group C.
Serge Gnabry, Maximilian Arnold (both Germany), Domenico Berardi and Gianluigi Donnarumma (both Italy) are just four of the stars that Denmark's young guns will have to corral in order to progress to the knock-out stage.
Despite Denmark's strong qualifying performance, going undefeated, it will be an uphill battle from here.
READ MORE: Under-21s handed solid qualification group for Euro 2019
Krazy in Krakow
The tournament starts on Friday, but the Danes don't lace up until Sunday in Krakow, where they face an Italian side brimming with Serie A talent. The Danes are serious underdogs, especially considering they haven't beaten Italy in the last seven encounters, though a goalless draw in Bergamo last November offers some hope.
It doesn't get any easier three days later when they line up across from the Germans, who beat a vastly superior Danish side 3-0 at Euro 2015. By the time the Czechs roll around in Tychy next Saturday, the Danes could very well be out.
"It's great that the countries are putting out their best teams. It's awesome that the tournament is being prioritised and people find it exciting and interesting," Denmark's coach, Niels Frederiksen, told Bold.dk.
"It won't make it easier for us, but it will make it more interesting because we have the opportunity to measure up against Europe's finest in this age group. It will be exciting and we are looking forward to it."
READ MORE: Very nice! Danes get past Kazakhstan in World Cup qualifier
A potent unit
But what Denmark lacks in star power, the team is filled to the brim with in spirit and teamwork.
Star youngsters like Pione Sisto (Celta Vigo), Kasper Dolberg (Ajax) and Jacob Bruun Larsen (Dortmund) will all miss out for one reason or another, but team spirit is strong because the coach has picked the players who qualified Denmark for the tournament in the first place. Ringers can be a good, but disruptive, presence.
There are other positives. The Danes warmed up by beating the defending champs Sweden 2-0 in Helsingborg last week and they can also hang their hats on a bit of history. 25 years ago this month, a Denish side that wasn't even supposed to be at Euro 92 went on to win the whole thing. Who did they beat in the final? Germany.
Denmark's games will shown on Kanal 5.