News
Bringing ministers, musicians and mayors together at Folkemødet, the Roskilde of politics
---
This article is more than 6 years old.
Island of Bornholm bracing itself for a year's worth of business in half a week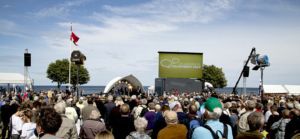 Are the corridors of power a little quieter than normal today? Move over, Roskilde, there's a new festival in town.
Pre-emptively stealing the spotlight from one of northern Europe's largest music festivals is Folkemødet, the C-SPAN to Roskilde's MTV, which kicks off today.
Folkemødet, billed as Denmark's political festival, is taking over Børnholm with a three-day schedule packed full of lectures, discussion sections, workshops and performances.
The leaders of all Denmark's major political parties will be in attendance, along with a grand array of other government ministers, mayors and councillors from across the country, and a number of politicians from neighbouring lands.
Discussion subjects span a breadth of subjects, with titles such as 'If Jesus Was a CEO' to 'Drones in the Blue – an Ocean of Possibilities'.
Venturing beyond straight politics, talks extend to topics like business, infrastructure, climate and energy as well as local politics and social issues.
Previous years have brought guests such as Russian politico-punk rockers Pussy Riot in 2016, and an incidental 2015 flyover of two B-52 heavy bombers, courtesy of a Danish military training exercise.
The political revelry kicks off today and runs all weekend until its closing ceremony at 15:00 on June 18.