News
Denmark warned of the perils of 'ghost nets' in the sea
---
This article is more than 6 years old.
Nature organisation WWF wants governmental action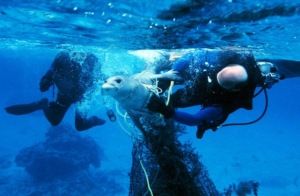 The drifting remnants of fishing lines and nets, which often cling to wrecks and reefs, are a threat to biodiversity because they continue to trap fish, birds, aquatic mammals and turtles that drown or die of hunger as a result.
The World Wide Fund for Nature (WWF) believes Danish politicians should be much more aware of the problem.
READ ALSO: Nordics' united front to fight plastic in the oceans
The American experience
In the Puget Sound, an area of water that stretches almost 160 km in the US state of Washington, a clean-up campaign launched in 2002 resulted in divers recovering 3,759 'ghost nets', reports DR Nyheder.
At the same time, dozens of dead seals and other mammals, 800 dead birds, and around 2,400 living and dead fish were entangled in the nets, as well as tens of thousands of crabs and other crustaceans.
Aquatic death-traps
The situation is probably the same in Denmark, but there is little to no focus on the problem, according to Thomas Kirk Sørensen from the WWF.
"Ghost nets are an extremely durable and effective death-trap for fish, crabs, birds and many other creatures living in the ocean. It's indecent that they should die in this way, and it really is a waste of living resources."
At the same time, the 'ghost nets' are a source of plastic pollution that over time can become microplastic.
No obvious problem
However, the Danish fishermen's association, Danmarks Fiskeriforening, doesn't believe there is a problem.
"It's not something we hear about from our members," said section head Ole Lundberg Larsen.
"Previously, we had a few problems when long-line fishermen encountered trawlermen, but we don't hear about it very much anymore."