News
Animal rights groups seek to save Italian dog on Danish Death Row
---
This article is more than 6 years old.
Thousands are rallying around Iceberg's cause on social media, but will it be enough to save her?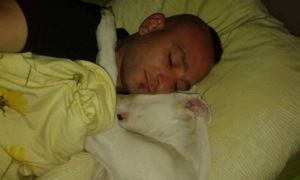 The story of Giuseppe, a young Italian restaurant worker whose dog has been sentenced to die by the Danish authorities, will serve as a warning to any international seeking to bring their pet into the country.
Iceberg is a Dogo Argentino, one of 13 breeds currently banned in Denmark, but she was able to easily enter the country in the spring after passing through routine custom controls, showing her passport and necessary veterinary documents.
If she had not bitten a man after getting involved in a fight with another dog in public, it's likely she would never have attracted the attention of the authorities.
It is believed an onlooker reported the incident to the police, who then tracked down Giuseppe's address and seized Iceberg.
Strong support to save dog
Yesterday, outside the Danish embassy in Rome, hundreds gathered to protest, according to ENPA, the Italian association for the protection of animals.
Social media has been awash with the story in recent days. Some 350,000 have shared the story on Facebook, ENPA claims, while 5,000 emails have been sent to Denmark's Ministry of Environment and Food.
ENPA argues the dog should be able to return to Italy. Meanwhile, a Danish association, Fair Dog, is fighting for Iceberg's cause in Copenhagen.
Meeting on Monday
Iceberg is currently being held in kennels in Copenhagen awaiting her fate. A ENPA delegation is scheduled to meet Erik Vilstrup Lorenzen, the Danish ambassador to Italy, on Monday June 26.
In 2013, the government was criticised after it emerged that eight of the 13 dogs on its outlawed list, which it released in 2010, had not yet attacked anyone.
However, the Dogo Argentino was not one of the eight.