News
More than for the festival, they're 'Volunteering 4 Life'
---
This article is more than 6 years old.
There's more to Roskilde than the music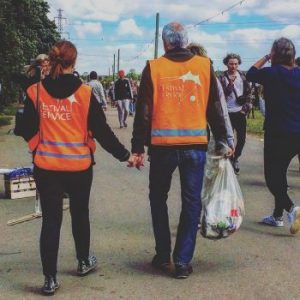 The patchy weather over the last few days has not swayed the tens of thousands of festival-goers who've made their way to this year's Roskilde Festival for yet another year of merrymaking.  The logistics of organising a festival that houses a crowd of around 130,000 for a week of camping, concerts and debauchery are, as you might imagine, quite eye-opening in themselves.
Fuelled by the efforts of 32,000 volunteers each year, most of whom have volunteered for an average of five festivals, Roskilde Festival is, at its core, a non-profit fuelled by charitable efforts. The event also makes an effort to ameliorate global social issues through numerous dedicated initiatives. Befittingly, this year's theme is hinged on focusing on cultural inequality, which it hopes to address through art, music, activities and donations.
One of the many organisations present at this year's festival is the Settle N Share project – an experiment involving communities co-operating to strengthen the unique camp feeling at the event.
Volunteering 4 Life – a youth-based initiative that works to create cultural programs for youth within the fields of sports, music and European youth exchange with a focus on creating a link between Roskilde Festival and the Erasmus + program – is but one of the many initiatives in this year's Settle N Share.
Propelled by Ishøj Ungdomsskole, this is the second time that the Volunteering 4 Life project will be at Roskilde Festival, having successfully run in 2013 (see below)
Onus on community sharing
This year, Volunteering 4 Life is focusing on educating the youth in volunteering in close collaboration with Roskilde Festival and other partners. According to Raymond Andrews, a benefactor of the youth exchange program, the non-profit, community-centred aims of Roskilde Festival are an ideal platform through which the volunteers of the initiative can gain a hands-on introduction to the philanthropic goals of the event.
Essentially this entails its 52 volunteers at the festival being introduced to companies such as DXC – a tech multinational typified by high levels of employee retention and a hiring process that doesn't involve hiring specialists but rather aims to hire based on matching skill-sets, informal or formal, which can be matched with its needs as a business.
The aim here is to inspire and equip the program's volunteers with informal skills for their career development.
To orchestrate this, app-making and other tech-based knowledge sharing aimed at boosting the competences of the volunteers are central to the work of Volunteering 4 Life at Roskilde. Similarly, it is hoped that festival initiatives such as Settle'N Share and REACT (a recycling system) will foster a strong dialogue between some of Roskilde's aims and the Volunteering 4 Life program's volunteers, who will work for a period between 24-32 hours during which they will support the needs of other festival-goers while engaging in informal learning experiences.
Beyond Roskilde Festival: providing skills for a competitive labour market
Outside of the festival, the Volunteering 4 Life program links to the goals of the Erasmus + mobility program through which it aims to maximise the potential of the youth in an increasingly competitive labour market, typified by a lack of practical expertise and speculation emanating from global financial instability.
Via the aforementioned Erasmus + program, Volunteering 4 Life creates the opportunity for groups of young people aged 13-30 from different countries to meet and live together for up to 21 days – a project dubbed 'mobility youth exchange'. Other organisations involved in the youth exchange include Battle IT (Estonia), Nordic Heights (Finland), Youth School Vilnius (Lithuania), H2o (Portugal), Atrendia (Spain) and Handicap Team (Sweden) amongst others.
During this time, joint programs centered around workshops, debates, simulations and other activities take place, with the aim of building competences and creating awareness around socially relevant topics.
Visit Volunteering 4 Life at Roskilde Festival (you will find them located in the camping area 'P') or check out their website for more information about their work.