News
Every second candidate failed Danish citizenship test
---
This article is more than 6 years old.
Far fewer people managed to get through the eye of the needle in June's citizenship test compared to December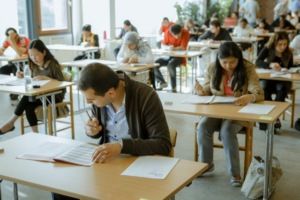 Earlier in the month, at 50 test centres across the country, 3,225 hopefuls sat the latest version of the Danish citizenship test.
However, figures released by the Ministry for Immigration and Integration show that less than half – 49.8 percent – managed to answer correctly the 32 out of 40 questions needed for a pass.
The figure is significantly lower than the numbers passing the test in December last year.
READ ALSO: Two-thirds pass Danish citizenship test
"It is a rather lower percentage of pass marks that we're seeing this time, and it just underlines how important thorough preparation is – and that's the idea," said the integration minister, Inger Støjberg.
A privilege
"Danish citizenship is a great privilege, and that's why we insist that people have to have a knowledge of both the basic conditions, as well as of culture, history and the society in which they want to be a part of," added the minister.
The agency for international recruitment and integration, SIRI, has analysed the test, which was held on June 7, and feels that it was of a satisfactory standard.
The questions were formulated in a way that was closely related to the recommended teaching material. The test focused on knowledge about Danish society to a higher degree than, for example, dates.
See whether you could become a Danish citizen by taking the test here on DR Nyheder's website.