News
Top accolade for English-language improv club still only in its first year
---
This article is more than 6 years old.
Improv Comedy Copenhagen named 'Best Stage in Copenhagen' by AOK Byens Bedste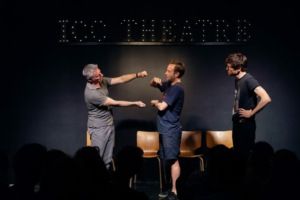 It sounded ambitious for a form of comedy that has surely seen better days since its eruption in popularity in the 1990s on the back of the Anglo/US show 'Whose Line is it Anyway?'.
READ MORE: Carving out a career in comedy is no cakewalk
Four Anglophone shows a week in a still mainly Danish-speaking capital city, along with self-development classes for those interested in learning more about impro comedy – it was difficult to see where they were going to find the staff beyond importing a few Yanks on restricted work visas.
Nevertheless, when it opened in August 2016, Improv Comedy Copenhagen set its stall out to become a serious contender on Copenhagen's theatre scene.
More than A-ok
And against all the odds, it has succeeded, recently winning the title of 'Best Stage in Copenhagen' awarded by AOK Byens Bedste, the listings website's annual awards, which tend to always recognise achievement in the Danish-speaking circles.
READ MORE: Improvisation has a new home in Copenhagen
Seeing off competition from Eventyrteatret, BestTellers, Skuespilhuset and Republique, the award was the result of a combination of public and jury votes.
"Getting this award so early in the lifetime of the theatre is a huge honour," enthused the theatre's co-founder Stefan Pagels Andersen.
"And it's a great milestone in our work to get improvised theatre the same acknowledgement as classical theatre. We've known for a while that we are delivering the absolute best comedy in Copenhagen at the moment, but to get the confirmation from AOK is even better."
Charlie Waller and Adrian Mackinder
Since opening, ICC has had more than 600 students take part in one of its improv classes (see video – 5pm on  Friday and Saturday), and it continues to perform shows every Wednesday, Thursday, Friday and Saturday at 8pm.
Its line-up of performers is ever widening as its reputation grows. While the likes of experienced performers Andersen, Gordon Torbet and Erika Balint have been on board since the start, recent additions include Charlie Waller, the lead singer of the Rumble Strips, who it turns out is an exceptional actor, British stand-up comedian and actor Adrian Mackinder.
"Performing with Charlie Waller on stage is a blast. He has a very innocent presence and always manages to take the audience by storm – he is definitely an audience sweetheart," enthused Andersen.
"Adrian really struggled with the rules of improv the first couple of times, but quickly understood that improv is not about trying to be funny and throw out punchlines, but about creating truthful scenarios together. We're very lucky to have such an asset on our team"
Tickets cost 80-100 kroner and can be bought at the venue, which is located at Frederiksholms Kanal 2 in the city centre.