Things to do
Like Disneyland, but frozen in the golden era of HC Andersen
---
This article is more than 6 years old.
Stroll through the historic settlement and meet the Princess and the Pea or Hans Christian Andersen himself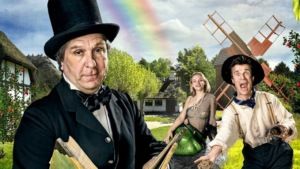 While Walt Disney clearly liked the Brothers Grimm, he never adapted a feature-length HC Andersen story. It wasn't until well over two decades after his death that his beloved company adapted one: 'The Little Mermaid'. And, of course, they recently followed up with 'Frozen'.
So stroll around Disneyland and you won't be accosted by many iconic Andersen characters, which is just as well as you'd only end up squashingThumbelina to death, while naked emperors and children – that's a lawsuit the size of Dumbo just waiting to happen.
But all that's about to change at Frilandsmuseet (the Open Air Museum) this summer, as its 100 historic buildings and 25 gardens will be teeming with costumed characters – both historical and fictional.
Japan and China have Hans Christian Andersen themeparks, but plans to build one in Denmark remain on the drawing board. So thanks to the mingling characters, open air theatre and animation screenings, this is the closest the Danish public will ever get to experiencing one.
"Our guests enjoy fun but different experiences as they walk around the scenic surroundings," enthuses Peter Darger, the theater director at Frilandsmuseet.
"Whether it's the Princess and the Pea or Hans Christian Andersen himself, the experience will always be unique because the actors improvise."
And no trip to Frilandsmuseet is complete without visiting the windmills and water mills, and also the farm animals. However, while petting is allowed, communication will be strictly monosyllabic, as none of them will be bursting out into song.