Things to do
Inside the miraculous world of Tove Jansson
---
This article is more than 6 years old.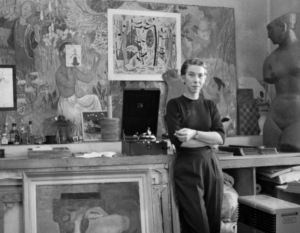 Whether you grew up with them or not, you've seen a Moomin before. They're sweet, short little fellows with a doughy, teardrop-shaped body; wide, inquisitive eyes; and a face that resembles a young hippopotamus crossed with a beanbag.
The Moomins are international A-listers in the world of children's literature thanks to creator Tove Jansson. Born in Finland at the outset of World War I, Jansson showed an early passion for curiosity, artistry and exploration. Drawing and illustrating through her adolesence, Jansson's Moomins series took off in the late 1940s and went on to global success over the next few decades – spawning spinoff comics, TV adaptations and more than one amusement park.
Though somewhat overshadowed by the Moomins, Jansson's talents as a painter and illustrator extended much further – over the course of her career, she created abstract and impressionist paintings, illustrations for Scandinavian-translated novels and a series of public murals.
Debuting in Denmark for the first time, GL Strand presents a major exhibition exploring the works of Jansson's life – both Moomins and beyond.
Art, Love & Moomins emphasises the diversity of Jansson's work: her surrealist, modernist and experimentalist paintings, private drawings and photographs, and a wide selection of works about the famous Moomins. The collection displays and commemorates Jansson's celebration of curiosity, joy and nature.