Things to do
Museums Corner: Embrace the spirit of Denmark past, present and yet to come
---
This article is more than 6 years old.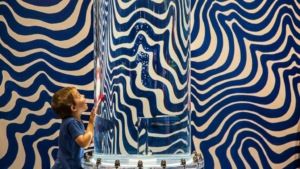 Out-of-city grounds offer the scale and bountifulness imperative to big experiences for young adventurers.
The diverse seaside of Roskilde Fjord, the picturesque countryside of northern Zealand and the home of Hamlet are all easily reachable destinations that guarantee memorable days out.
Furthermore, this edition of Museums Corner has a strong Scrooge flavour, as it offers us an excellent opportunity to embrace the spirit of Denmark past, present and yet to come.
Sojourn like Scrooge!
Learn about Denmark's history – whether it's more about the Vikings in Roskilde or how people lived during the late Medieval era via a trip to Frilandsmuseet.
Discover more about its future at the robotics exhibition at the Museum of Science and Technology and in the House of Inventions at Experimentarium.
And for those of us who want to inhabit the here and now, visit Carlsberg and sink a few cool ones in the warm embrace of its beer garden.
Bend your mind
Experimentarium, Tuborg Havnevej 7, Hellerup; open 09:30 most days, until 17:00 Fri-Wed, until 20:00 on Thu; over-12s: 195kr, under-12s: 115kr; experimentarium.dk
Calling all aspiring scientists and inquirers, so listen up Einstein and Tesla fans! Experimentarium in Hellerup, only 15 minutes from Copenhagen city centre, is a nerve centre of science and thought-provoking encounters. Its brand new venue designed by the CEBRA architects opened in January 2017, creating new grounds for experimenting with science and technology in a fun, dazzling and cutting-edge environment. The House of Inventions is your chance to explore four world-changing inventions, while the Tunnel of Senses will enable you to discover something new about yourself and how you see, feel, listen and smell. In short, Experimentarium is the place to play, learn and, not least, experiment.
Where history comes alive
Frilandsmuseet (Open Air Museum), Kongevejen 100, Lyngby; open Tue-Sun 10:00-17:00 until Aug 13; 65kr, under-18s: free adm; natmus.dk/museerne/frilandsmuseet
The Open Air Museum in Lyngby just north of Copenhagen is one of the largest and oldest open-air museums in the world. Here, history is alive as the rolling landscapes, gravel roads and furnished homes of the distant past remain untouched. All the farms and houses are original buildings that have been measured and dismantled at their original locations before being reconstructed at the museum. The expansive outdoor museum comprises more than 50 buildings, spanning three centuries from 1650 to 1950. The lush gardens and crisp countryside air will revitalise and prep you for more city escapades.
Setting sail to plunder
Viking Ship Museum, Vindeboder 12, Roskilde; open daily 10:00-17:00; 130kr, free adm for under-18s; vikingeskibsmuseet.dk
Spend a day as a Nordic seafarer from the 10th century at the Viking Ship Museum in the beautiful surroundings of Roskilde Fjord. In the workshops, you can decorate Thor's hammer or your own shield with paint made from beer, strike your own silver coin and wear it as a necklace, or make jewellery from lovely glass beads. To fully take in the surrounding landscape, join the Vikings on a voyage across Roskilde Fjord. Don't forget to help out with the rowing, setting sail and looking out for new territory to be conquered!
Renaissance robots
Danish Museum of Science and Technology, Fabriksvej 25, Helsingør; open Tue-Sun 10:00-17:00 (open Mon during July); 90kr, free adm for under-18s; tekniskmuseum.dk
The Danish Museum of Science and Technology is located in the town of Helsingør, known in English as Elsinore, not far from Kronborg Castle where William Shakespeare's play 'Hamlet' is set. But here there is no time for royal dramas of the past: rather, let's look to the future, as stories of the first technical inventions pave the way for new ideas. At the permanent exhibition 'Industry – from crafts to robots' you can check out the latest industrial robots and make your own machine. For diesel lovers, the grand collection of vehicles, including the world's oldest car and classic Danish Nimbus motorcycles, will certainly make the heart beat faster.
Carlsberg Fridays
Visit Carlsberg, Gamle Carlsberg Vej 11, Cph V; open Friday 16:00-22:00; free adm; visitcarlsberg.com
The sun has warmed up Visit Carlsberg's cobblestones and the brewers have made sure that there's cool beer in the bar – that can only mean that it's time for Copenhagen's 'hyggelig' Friday bar to open at Visit Carlsberg in Valby. Every Friday in June, July and August, the Carlsberg bartenders are ready behind the bar with cold beer for you to sink under the old brewery's iconic chimneys. The chefs have fired up the grill and a DJ will be spinning the coolest chill-out lounge vibes in the courtyard. The atmosphere is laid-back with table football, cool music and probably the best beer in the world – Carlsberg Fridays is the perfect way to warm up for your Friday evening. Cheers!
For more inspiration from the museums, visit Copenhagen Museums & Attractions at cphmuseums.com