News
Dane creates the world's most expensive chocolate
---
This article is more than 6 years old.
Trump's new chocolatier perhaps?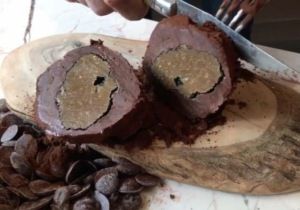 Danish artisan chocolatier Fritz Knipschildt has created what may be this season's monument to excess.
Working out of the Chocolate Room in Brooklyn, New York, Knipschildt has fashioned a chocolate that he has dubbed the La Madeline au Truffe.
A single piece of the confection sells for $250 – about 1,630 kroner – so a kilo of the candy would run … well, more than any sane person would spend on chocolate.
'Nobody knows the truffles I've seen…"
The La Madeline au Truffe consists of a rare French Perigord truffle covered with ganache of heavy cream, sugar, truffle oil and vanilla coated in 70 percent Valrhona dark chocolate.
The whole thing is then rolled in fine cocoa powder and laid in a silver box on a bed of faux pearls.
Well, of course it is.
The Guinness World Record's team recently visited the Chocolate Room to verify La Madeline au Truffe's statue as the world's most expensive individual chocolate.
Not a Kit Kat
The video of the event reveals that, price notwithstanding, the chocolate isn't geared for sharing as it crumbles apart when Knipschildt tries to cut a piece for the somewhat hapless presenter who, it must be said, seems not to actually, well, even like ol' Madeline very much.
For the budget-minded, Knipschildt also makes a box of truffles filled with champagne and coated in flakes of gold, which retails at just under 2,000 kroner per box.
What a steal!