General
Brunch Reviews: Bowled over by acai in Vesterbro
---
This article is more than 6 years old.
Bowl Market is one of three wondrous brunches waiting for you to sample in Copenhagen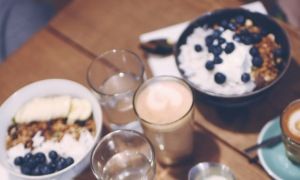 Monarch among the Instagrammable dishes is the bowl – the neat arrangement of an aesthetically garnished dish seems to hold as much value in social influence as it does physical sustenance.
Bowl Market gets this. A look at its own Instagram page evidences its understanding: a scrolling catalogue packed with a menagerie of manicured oatmeal. But the eatery's skills aren't just limited to the looks.
And healthy too
Their fare consists largely of grains, fruits, nuts and healthy-leaning garnishes – a dollop of jam, a scoop of peanut butter, a dusting of protein powder. Components of each bowl are cooked from scratch and in individual batches, as opposed to spooned out from a large communal pot.
We recommend the acai bowl featuring the new superfood from Brazil everyone's raving about. It's like a thick smoothie topped with oatmeal and acai berries that tastes like ice cream. But it's good for you.
For the energetic
Dishes at Bowl Market pack strategic nutrients and aim to provide 'slow burn' energy, sustainable over a long period of time. This parcelled approach ensures that each bowl hits his desired flavour and consistency.
Much of Bowl Market's menu leans toward sweeter plates of the breakfast order, but savoury dishes such as risotto with picked mushrooms or gazpacho soup are available as well.
---
OTHER BRUNCH REVIEWS:
Union Kitchen
Store Strandstræde 21, Cph K; open Mon-Thu from 07:30, Fri-Sat from 08:00; brunch from 79kr; theunionkitchen.dk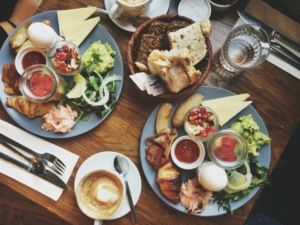 An Australian millionaire recently made headlines by advising millennials that in order to purchase a new home they should refrain from buying avocado toast. Easy for him to say as he certainly hasn't tasted this café's toasted rye bread with avocado, coriander, chili flakes and lemon. Located just a few minutes from Nyhavn this spot is ideal for both breakfast and lunch. Its offering include eggs benedict and buttermilk waffles, or if you're feeling the effects of the previous night, opt for the Bartenders Hangover Burger with champagne. (PS)
Stempel Bar
Enghave Plads 2, Cph V; open Mon-Thu from 09:00, Fri-Sun from 10:00; brunch plates from 79kr, brunch buffet from 149kr; stempelcph.dk
At the end of Istedgade within easy walking distance of many boutique stores lies a unique café and bar offering a delicious selection of brunch options. Fashioned from recycled materials, it boasts a cosy interior. Beautifully presented small plate options are available including scrambled eggs & bacon on focaccia with a selection of cheeses and marmalade. Alternatively this is one of the only locations in the city that offers a full English breakfast with all the sides (yes baked beans are a thing). Healthier options include yoghurt, muesli and strawberry coulis. (PS)