Things to do
August Music: A sweet 'deth' in the company of metal legends
---
This article is more than 6 years old.
Also playing in the capital this coming month are Interpol, Mac Demarco and Daniel Lanois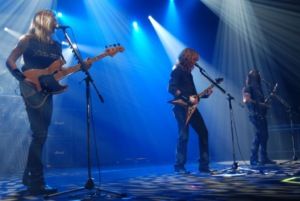 For those of you who missed out on Metallica at the Royal Arena, heavy thrash-metal band Megadeth might be a viable alternative to getting your fix of energetic head-banging.
Fronted by former Metallica original lead-guitarist Dave Mustaine, the prominent band began their career as far back as 1983, stunning crowds three years later with their first major label album, Peace Sells…But Who's Buying?
Megadeth have an impressive collection of songs in their arsenal, place a strong focus on controversial complex political themes.
With over 50 million records sold, the thrash-metal group helped write the book on this genre alongside prominent metal legends Slayer and Anthrax.
The controversy surrounding the band's lyrics and music videos has done little to suppress the rise of this major player.
Mac Demarco
Aug 9, 20:00; Den Grå Hall Christiania; 270kr
Canadian singer-songwriter Mac Demarco's international presence has exploded since the release of his latest studio album, This Old Dog, featuring his unique style of folk rock, laid-back guitar compositions and self described 'crisp 70s style'. Given the whirlwind success of this 27-year-old, fans can expect an unforgettable evening of creativity.
Daniel Lanois
Aug 10, 20:00; DR Koncerthuset; 290kr
The summer of 2017 is delivering to the stage the multi-talented songwriter, producer and singer Daniel Lanois, the man behind the production of acclaimed big name albums for the likes of U2, Neil Young and Bob Dylan. The 67-year-old's successful solo career consists of a total of 16 albums and much-revered live performances.
Interpol
Aug 27, 20:00; DR Koncerthuset; 470kr
On the 15-year anniversary of their debut album Turn On The Bright Lights, the New York-based rock band will be making a long awaited return to the stage with hits including 'Leif Erikson' and 'Who Do You Think'. The stylish indie-underground band will certainly appeal to steadfast fans as well as alternative punk-rock admirers.