General
Brunch Review: Multi-coloured in Nørrebro
---
This article is more than 6 years old.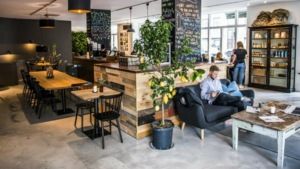 Our top choice this summer is an establishment that many will feel they've already visited thanks to all the cute pictures on Instagram. Now it's time to make that experience yours!
Every brunch is unique. Instead of taken from a buffet, diners pick out dishes that are then delivered to the table on individual colourful plates. This is when the real magic takes place – so have your camera handy as this kind of art deserves to be remembered.
Infinite combo options
There are no limits to how much you can eat, so the combo possibilities are endless, but you can't go wrong with the organic, homemade sourdough bread served with scrambled eggs and bacon (make sure you try their homemade ketchup!), along with some yummy homemade nutella to spread on your bread.
If you fancy going American, order the famous Nørrebro waffle with cream, a house special every first-time visitor should try. Healthier options, meanwhile, include artichokes bathed in sour cream.
Green oasis
Møller is spacious and beautifully decorated. Filled with green plants, the environment makes you feel you are in an indoor patio surrounded by nature.
A blackboard details exactly what you'll be getting in a Latte, Cortado or Macchiato, so there's no confusion. The result is excellent coffee exactly how you like it.