News
New Danish platform created to share scientific data free of charge
---
This article is more than 6 years old.
Patent-free research may seem like a pipe-dream, but has become a reality in Aarhus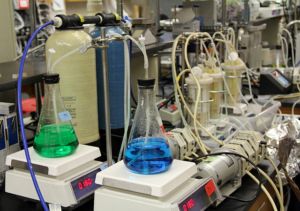 We have open source software, so why not also have open source science?
As if in answer to that question, researchers at Aarhus University, together with partners from the business sector, have set up an Open Science platform on which results and data are uploaded and made available free of charge to anyone interested.
READ ALSO: Researchers' results to be free for all
Playing it safe
At the moment, it can be both difficult and expensive for companies to gain access to relevant university research. Also, researchers and those who give grants tend to focus on safe bets, and projects that may end up not paying dividends in the longer term are put on the back burner.
The new platform has been established with 2.5 million kroner in funding from the Danish Industry Foundation, and the beauty is that nobody can patent the knowledge that has been uploaded. On the other hand, the research can be used to develop new products that can subsequently be patented.
Niels Christian Nielsen, the dean of the science and technology department at Aarhus University, sees the platform as a strong response to several of the major challenges facing the research and business sectors – and thereby society.
"The paradox seems to be that we don't like investing in unorthodox or complex ideas because of the high risk that they won't eventuate. However, society can't afford to turn our universities into factories that are occupied with small and self-evident ideas."
A great deal of interest
The idea has already attracted great interest in the business sector. The first Open Science platform focuses on smart materials, and in addition to researchers in the chemistry, physics and engineering departments at Aarhus University and other Danish universities it initially includes 20 small and medium-sized enterprises, including flagship companies such as ECCO, LEGO, VELUX, Vestas, Grundfos, SP Group and Terma.
Professor Kim Daasbjerg of iNANO, who is not only the instigator of the project but also responsible for the platform, adds that the Open Science idea in this form is not entrenched at Aarhus University, but is a movement – just like open source, crowdfunding and crowdsourcing.
"Other research environments are completely free to imitate us and to copy and paste our model. At the rate the project has spread, I predict that Open Science can have the same impact on the scientific ecosystem associated with basic research that internet streaming has had on the music and film industry," explains Daasbjerg.
"It is very expensive to subscribe to the major important journals – even for research institutions whose researchers provide the contents, and because the journals also assume copyright of the authors' articles, the authors [i.e the researchers] have to pay if they want to share their contents with the wider public."
Helping companies move on
The business sector partners are also enthusiastic. "It's about taking industrial development in the direction we need and not waiting for others to do it," added Kristian Møller Kristensen, a product and process technology manager at VELUX.
"We're fully aware of the fact that 99 percent of the world's most talented people do not work at VELUX. We need to go out and find people who can help us move on, and this is precisely where other skilled people can contribute in Open Science."
See the platform
The first Open Science platform is called SPOMAN (Smart Polymer Materials and Nano-Composites), and its website is  accessible here.