General
Heavy rain could bring more flooding to Denmark
---
This article is more than 6 years old.
Heavy rain could bring more flooding to Denmark North Jutland and north Zealand to be most impacted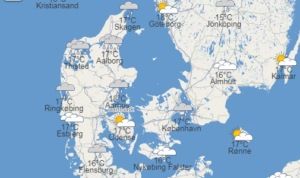 If you were forced to bust out the umbrellas and wellies during yesterday's downpour, you might as well keep them handy. Because more heavy rain is on the horizon today.
According to the national weather forecaster DMI, there is a risk of heavy rain, hail, lightning and flooding in primarily north Jutland and less so in north Zealand today.
Drawing a straight line across Denmark, the area north of Ringkøbing, Aarhus and Helsingør is considered the most vulnerable.
READ MORE: Hurricanes, flooding and … space weather? Here are the top threats to Denmark
Wet and windy
The rains are already pushing though the coast from the North Sea and winds are expected to pick up force somewhere between 10:00 and 17:00. The weather could lead to over 15 mm of rain falling in just 30 minutes and flooding.
While the rest of Denmark looks set to miss out on the heavy rain, they can expect to see showers and strong winds for a large portion of the day.
The rains are expected to continue over the weekend, though with less frequency.