News
Copenhagen named among most vegan-friendly cities in Europe
---
This article is more than 6 years old.
Danish capital come sixth in fresh Holidu ranking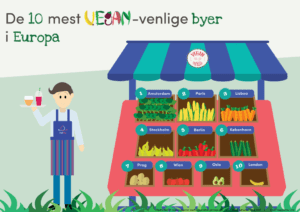 If you're a vegan looking for the best tourist destinations in Europe, the Danish capital of Copenhagen might be right up your alley.
According to the German-based search engine for vacation rentals, Holidu, Copenhagen is the sixth best city in Europe when it comes to having the greatest number of vegan-friendly eateries in relation to population size.
"And that's despite the fact there are more pigs in Denmark than people. But who is to say that plant-based ingredients can't be a topping on the traditional smørrebrød," wrote Holidu.
READ MORE: Danish politicians survive 22-day vegan diet challenge
Going Dutch
Amsterdam took top spot, followed by Paris, Lisbon, Stockholm and Berlin, while the top ten was completed by Prague, Vienna, Oslo and London.
The rankings are based on data collected from the website Happy Cow, which specialises in vegan nutrition.
"Tourists with special diets often decide to rent a holiday home rather than book a hotel as they can prepare their own meals just as they like them, rather than having to check the ingredient list at the hotel buffet," said Holidu chief executive Johannes Siebers.