Things to do
Concert Review: Lil' Wayne's big performance rocks the city
---
This article is more than 6 years old.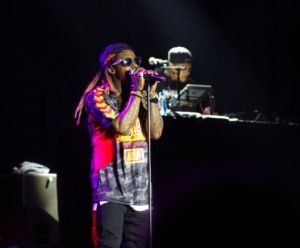 When it comes to open-air concerts in Copenhagen, Fredagsrock at Tivoli has always been a favourite among music lovers. And in celebration of the event's 20th anniversary this year, the list of performers has included some big international names like Lil' Wayne whose larger-than-life performance thrilled the audience last weekend.
The Louisiana native who has been hailed as one of hip-hop's bestselling stars was as dazzling on the stage as his diamonds on display.
Carter's Catalogue
Beginning with two songs from his most-renowned album, 'Carter III', the Grammy-award winner told the raucous crowd "I haven't even gotten started yet."
He sang hit after hit, including 'Lollipop' and 'Mrs Officer', which he dedicated to the ladies, together with 'Go DJ', 'I'm The One' and 'No Problems', which left the audience chanting for more.
Bringing words of wisdom and criticism together
Mr Carter not only charmed the fans with his music but also delivered a few words of wisdom, telling people to love the person who they see in the mirror.
He also took the opportunity to share the stage with his employees from his record label including rappers Mack Maine, Gudda Gudda and Hoody Baby. This, however, distracted the artist from the main act.
What's more, it wasn't all friendly as he performed a number based on his scathing criticism of his former father figure Birdman who he has accused of shady business practices.
A final message
To mark the finale of his performance, Wayne sent a clear message with his song 'Look me in the face, I ain't got no worries'. This was a carefree day for the artist as his t-shirt and onstage smoking indicated he had taken a trip to Christiania.
Lil' Wayne wasn't just blowing smoke. The self-proclaimed 'Fire Man' brought the heat to the otherwise cold Copenhagen and deserves a 5 out of 6 rating for rocking the night away.