News
Archaeologists make stunning treasure find in Denmark
---
This article is more than 6 years old.
From the Middle Ages, Valdmar Sejr and Christoffer 1 both visible on coins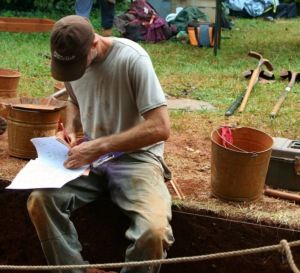 What initially looked like a confectionery wrapper in the middle of the excavation of an early Stone Age palisade in the southern Zealand municipality of Stevns turned out to be something far more interesting.
Archaeologists have now confirmed that it's actually an unusual coin treasure from the Middle Ages.
"It's not often we find coin treasure during excavations. It's usually something uncovered by metal detectors," Mette Madsen, an archaeologist and curator at the Museum of Southeast Denmark, told TV2 News.
"First I thought someone had thrown some green caramel wrapping out on the dig site and got a bit angry. But then I took a closer look and almost had a heart attack as I realised it was treasure."
READ MORE: Caesar conquering Britain a 9th century invention by Alfred the Great
Lords of Vordingborg
The coins are believed to be from the 1200s, and they are quite worn. Valdmar Sejr and Christoffer 1 are visible on some of the coins. They were both 'kings' in Vordingborg during that period.
Because the coins have been exposed to water and air for many years, they've turned green – which also indicates a high level of copper, explained Madsen.
The treasure, which has now been completely excavated, will be sent to the National Museum of Denmark in Copenhagen, where it will be conserved.