News
Danish police accused of brutality against Polish football fans
---
This article is more than 6 years old.
Polish media fuming after tense ticket situation spirals out of control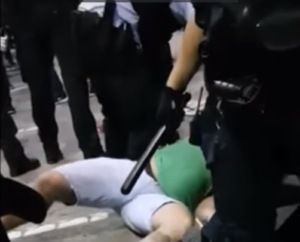 The media in Poland has blasted the Danish police for using extreme force against Polish fans who were in Copenhagen to watch their team play Denmark in the World Cup qualifier last Friday.
Several Polish news outlets, including Super Express, Fakt24 and Gazeta Polska, condemned the Danish police for overreacting when a group of Polish fans were denied entry to the stadium because their tickets were for seats in sections designated for Danish fans.
The violent episode has led the Polish parliamentarian Sylwester Chruszcz to write to the Danish Embassy in Poland complaining how the Polish fans were treated in Denmark.
READ MORE: A Polish-ed performance: Danish World Cup dream intact
Hooligans and DBU 
In Denmark meanwhile, the case has been transferred to the independent police authority to look into and as such, the police have no further comment at this time.
But earlier the police said that a number of those arrested were known hooligans identified by Polish police in Copenhagen and that the situation had escalated to the point where they needed to draw their truncheons.
"We are so pressed that we call for assistance from all the Zealand police districts, plus we call in extra manpower from Copenhagen," Jens Jespersen, the deputy commissioner of Copenhagen Police, told DR Nyheder.
The police also pointed to the fact that the national football association, DBU, did not have their ticketing system in order. Of the 56 Polish fans arrested, 55 have been charged. See video footage below.
Friday night was pretty miserable all round for the Polish fans, who also had to endure a 4-0 thrashing by the Danes.