News
Architects propose artificial island alternative to Copenhagen Harbour tunnel link
---
This article is more than 6 years old.
Plans include a Metro link, 6,000 new city homes and a flood barrier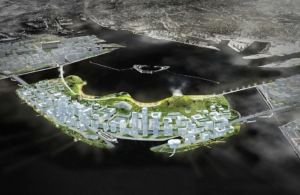 From building one in the Øresund to truly make Copenhagen and Malmö one major metropolis, to placing another in the North Sea to harness wind energy and another to assist bird-breeding, artificial islands are all the range.
And now a Danish architecture firm has proposed building a 550,000 sqm island in Copenhagen Harbour as an alternative to the long-term harbour tunnel project – a route considered necessary to address the increase in traffic in the city centre.
Urban Power partner Rune Veile has confirmed to Politiken that the company's outline plans have already been sent to the relevant politicians at Copenhagen Municipality.
READ MORE: Is privatisation looming for the park of the people?
Metro, new homes, and a flood barrier
Provisionally named 'Nordhaleøen' by the Urban Power architecture firm, it will be sited in between Refshaleøen and Nordhavn and link the island and city district by road, Metro and cycle lane.
Financed by the sale of residential land plots to build an estimated 6,000 new homes and office space on 900,000 sqm of floor space, the island would also serve as the kind of flood barrier identified by experts as a necessity to protect the capital against flooding caused by climate change.
Urban Power has not released specific plans, but it is believed the island will partly be built using earth dug up during Metro construction work.
Better than the tunnel
The number of new homes is far more than those proposed as part of a plan to build a tunnel encroaching Amager Fælled, the capital's biggest green area.
Veile is among those unconvinced by the tunnel plans. "According to the latest plans, the tunnel would leave a number of large scars on the urban landscape in the form of road exit systems," he told Politiken.
"At the same time, a major road construction project like this would undoubtedly lead to even more cars in the city centre."