News
Getting cosy with Claus: US football breaking tackles in Denmark
---
This article is more than 6 years old.
CPH Post sat down with Danish US football icon Claus Elming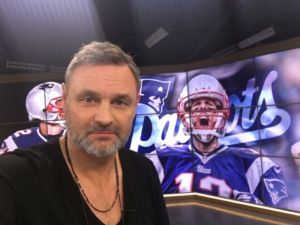 With autumn upon us once again, the Danes have begun unpacking their warmer jackets, boots and umbrellas – which never really went away during the wet summer.
But there's another indication of the time of year. Tens of thousands of Danes are once again turning up for work bleary-eyed from a lack of sleep after huddling up to see some late-night NFL action. That's right, gridiron season is well underway.
CPH POST caught up with Danish US football icon Claus Elming, one of the principal drivers behind the expansion of the game's popularity in Denmark. Together with Jimmy Bøjgaard, he presents coverage and commentates on games on 3+ every Sunday evening from 22:15, as well as other nights. Over the years, the duo have taught the rules to the audience, shared their unbridled enthusiasm for the game and helped to build a following.
Elming since his days playing high school football in Minnesota has gone on to be inducted into the Danish football Hall of Fame for his contributions as a player, coach and pundit. He currently runs Denmark's most popular American football site, Gulklud (yellow flag).
CPH POST was accordingly eager to consult his opinion on Morten Andersen's recent induction into the pro football Hall of Fame in Canton, Ohio and other issues concerning the league, including Andreas Knappe's recent flirtation with the NFL and Colin Kaepernick's refusal to stand during the national anthem and subsequent failure to get a place on a roster.
What does it mean to Morten Andersen's legacy to get a bust in Canton – a Hall of Fame induction?
I think this is the single greatest thing that any athlete can achieve after their career is over. For a Dane to achieve this, in the premier sport in America, is absolutely amazing, and I don't think a lot of people in Denmark understand how big this is. This is absolutely unbelievable. I really, really hope that Dansk Idræts Forbund, Danish athletes association, recognises how big this is and also elects him to the Danish hall of fame. In terms of sporting accolades, there are only two people in the history of Danish sports who have got to this level and they are Allan Simonsen in 1977 [as European Footballer of the Year] and Morten Andersen now.
Can the NFL get any more popular than it is now in Denmark?
I hope so. I think the NFL is an amazing sport and obviously it's very different from handball and football and other sports that Danes like. There's all these breaks, but I think the Danish public has been educated over the last 20 years to really understand the sport better. I know a lot of people also in the media industry who in the beginning were very reluctant to watch NFL or to say that they like NFL, but now there are a couple of friends of mine in the business who have said to me that American football has become their favourite sport. Once you get that feeling – once you understand what's going on – there are so many aspects to American football. You get some of it in team handball, some of it in hockey, some of it in soccer, but it's all combined, and that's what makes the sport so great. These are some of the world's greatest athletes.
One important element of the game is the offensive line, the position in which Danish player Andreas Knappe plays. Is it a flashy enough position to capture excitement?
No, obviously it's not a flashy position, but again the Danish fans have been educated so much that they understand the complexity of the game and understand the importance of every position and also they understand that offensive tackle is a tough, tough position to play and crucial to team success. All you have to do is mention his numbers: he is 204 cm tall, he weighs 148 kilos, he runs faster than most people and he is super strong. The boy's fast, the boy's athletic, the boy can move. There's a lot of work to be done but hopefully he can get a spot on the Atlanta Falcons team [since this interview, Knappe was cut before the regular season started and is looking for another team].
What does it mean to Americans that Colin Kaepernick kneels for the national anthem? Why doesn't he have a job?
We do love our red and white flag – we use it for birthdays and everything else –but I don't think we have the same respect for the flag that they do in America and the same history. The American flag evolved and although we are a proud people with a rich history here in Denmark, we view it differently. In America playing the national anthem and waving the flag demands respect. So, when Kaepernick did that it caught a lot of attention in the media – even in the Presidential Election it was used when Donald Trump said: "Find another country to live in." The fact he doesn't have a job speaks for itself. There are 64 quarterback spots in the NFL – don't tell me he's not top 50, don't tell me he's not top 40. Him not having a job is basically some of the teams, some of the owners and some of the fanbases being racist, and that just goes to prove his point.
How much fun is it running your 'Gulklud' NFL website right now?
I love it; we're getting bigger and bigger. Gulklud is the place to follow not just NFL but college football and Danish football. I have a lot of people working for me who are just as enthusiastic about the NFL as I am. We are going to do our first magazine – we are doing a preview magazine for the season that's going to be an online magazine. We'll have a brand new article about Morten Andersen and his whole Hall of Fame experience, we'll have a brand new article about Andreas Knappe, there will be other articles of Danish players moving up the college ranks in America, and of course a preview of all 32 teams.