News
Rare rhino birth underlines success of inter-zoo breeding co-operation
---
This article is more than 6 years old.
Just a couple of days old, Givskud Zoo's latest addition is already heavier than most people's children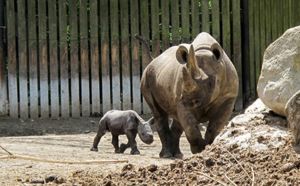 Did you hear the pattering of tiny hooves on September 15? Or more like heavy pounding, as new-born white rhinos weigh 40-60 kg, the same as a large dog or even a Victoria's Secret model.
Guess the gender wrongly
The rare birth of a female calf last Friday at Givskud Zoo 20 km northwest of Vejle in Jutland was the first in the country since 2006.
The mother Mazumba, who was moved to Denmark halfway through her 18-month pregnancy from a zoo in the Netherlands, gave birth sooner than expected – her third calf in total.
"Normally it's the males that come too early," zoo head Richard Østerballe told DR.
"And when the calf stood big and fast on its legs after the birth, we thought it was a male."
Successful breeding program
Givskud Zoo participates in an international breeding co-operation between zoos all over the world, which has resulted in an increase in the number of births of white rhinos in recent years.
The zoo's main objectives are to inform, conserve endangered species and conduct research. It seeks to offer visitors a "stimulating recreational environment" according to its website.
Although the program has been successful, it is important the work continues.
"The stock of rhino has swung massively because of the hunting of the coveted horns. Therefore, it is essential that we work with breeding in zoos to preserve the species," said Østerballe.