News
Danish zoo in mourning following death of rare baby rhino
---
This article is more than 6 years old.
It is believed that two-month old Shaya suffered internal damage from a kick or being squeezed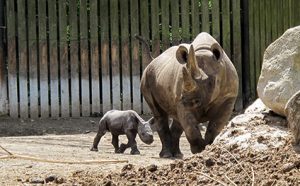 The Danish safari park, Ree Park, is in a state of deep sorrow after its two-month-old baby black rhino, Shaya, was found dead yesterday morning.
The park isn't sure what exactly happened to Shaya, pending an autopsy, but it is believed the little rhino died following a kick or being squeezed by an adult rhino.
"We could see that there was something wrong yesterday, so she was given some sedation and pain killers. The vet found signs of muscle damage, but during the night we observed an improvement. She was upright and was drinking normally," Jesper Stagegaard, the head of Ree Park, told TV2 News.
"But this morning we found her dead and it looks like it might be her kidneys that called it quits during the night."
Ree Park was jubilant when Shaya was born in July – as part of a breeding program for the very rare black rhino.
The news comes a day after the announcement of the rare birth of a female white rhino calf last Friday at Givskud Zoo.
READ MORE: Rare rhino birth underlines success of inter-zoo breeding co-operation
Laying down Lars
In related news, Aalborg Zoo decided yesterday to put down its resident polar bear Lars after a health check revealed he was unwell.
The health check revealed that he had a tooth boil and liver issues and he was also showing signs of cancer – which prompted the zoo to put down the 23-year-old male.
"Unfortunately, we found a very large cancer tumour near his liver. It's always sad to put down an animal, but it is our responsibility to make these decisions when an animal is terminally ill," Helle Justesen, a communications officer with Ree Park, told TV2 News.
Lars arrived to Aalborg Zoo from Rostock Zoo in Germany in 2015 and is the father of the world-famous polar bear cub Knut, who died in Berlin Zoo in 2011.