News
Copenhagen among quickest-growing tourism destinations in Europe
---
This article is more than 6 years old.
Danish capital saw an 8.1 percent increase in visitors from 2009-2016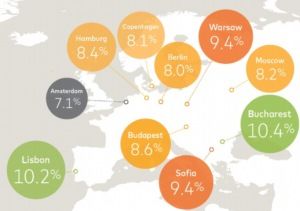 Copenhagen has been ranked among the quickest-growing tourism destinations in Europe by the Global Destination Cities Index, published annually by Mastercard.
The index (here in English) revealed that the Danish capital enjoyed an 8.1 percent increase in travellers between the years 2009 and 2016, making it one of the fastest moving in Europe behind top growers Bucharest (10.4 percent), (Lisbon (10.2 percent), Sofia and Warsaw (both 9.4 percent), Budapest (8.6 percent), Hamburg (8.4 percent) and Moscow (8.2 percent).
Of the travellers who visited Copenhagen in 2016, 96 percent were tourists. They spent almost 6 billion kroner in the capital – 28 percent of which was spent on shopping.
READ MORE: Copenhagen among most expensive tourist destinations in the world
Bang on Bangkok
Overall, 1.66 million travellers visited Copenhagen last year, which ranks 66th overall globally. That figure is expected to increase by 4.5 percent this year.
Bangkok remained the most popular destination in the world with close to 20 million visitors in 2016. London came second (19 million visitors) followed by Paris (15.5 million), Dubai (14.8 percent) and Singapore (13.11 million).
New York (12.7), Seoul (12.39), Kuala Lumpur (11.28), Tokyo (11.15) and Istanbul (9.16) completed the top 10.
Holiday home award
In related news, a luxury summerhouse in Marielyst was named among the winners of the European Holiday Home Awards for the category 'Best Family Friendly Holiday Home'.
The summer home – which can house 32 people and includes 16 bedrooms, two indoor pools, a sauna, a pool table, basketball court and a mini-golf course – can be leased through Novasol.