News
Local News in Brief: Fewer foreign beggars on Copenhagen's streets
---
This article is more than 6 years old.
In other stories: collecting garbage at sea and as biowaste, getting rid of abandoned bikes and spotlighting hitchhiking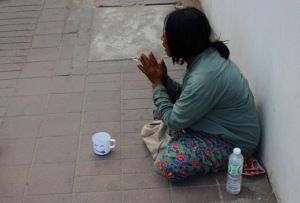 The tougher laws that came into force on July 21 this year imposing stricter punishments for begging seem to be having an effect – at least, when it comes to the number of foreigners begging.
Steen Bo Pedersen, the head of the homeless unit at Copenhagen Municipality, says the number of foreign beggars in Copenhagen has fallen, reports TV2 Nyheder.
The new law can lead to sentences of 14 days imprisonment being imposed without prior warnings being given for begging on pedestrian shopping streets, stations, in front of supermarkets or on public transport.
Pedersen thinks that foreign beggars are feeling more stressed and under pressure. "The police have been much more obviously present on the streets during the summer, and that has led to a drastic fall in the number of vulnerable foreign nationals begging on the streets of Copenhagen."
It would also appear that Danish beggars are more mobile and can more easily evade the police.
"Whereas foreigners might choose to sit on Købmagergade with a sign, we know that some of the Danish homeless who beg get onto the S-train during the morning with a hat in their hand. They are a lot more mobile. Perhaps they don't do it all day, but only for a couple of hours. That perhaps makes it easier for them to remain under the radar compared to foreign beggars."
---
Getting rid of water-borne rubbish
Copenhagen's waterways are fast becoming an eyesore, with increasing amounts of rubbish being thrown into them. Last year alone, 90 tonnes were collected in Copenhagen Harbour, TV2 Nyheder reports. One solution to the problem could be PortBin, an invention from Norway that filters 100 cubic litres of water per hour through an inbuilt rubbish collecting system. The PortBin costs 60,000 kroner and will happily work unsupervised 24 hours a day.
Biowaste recycling a hit in Copenhagen
At the beginning of August, people in Amager received their first green bins to collect food waste for recycling. Every week, a new district has been added to the list, and at the end of August, there were 75,000 households involved. During August, the municipality collected 188 tonnes of biowaste material that apart from food includes things like coffee grounds, potato peelings, tea-leaves, eggshells, used paper kitchen towels and dead flowers. As there is no biogas plant near Copenhagen at the moment, the waste is taken to Jutland. Despite having to transport it there, it has still been possible to save 186 kilos of CO2 per tonne of bio waste when it is used to replace natural gas.
Copenhagen makes hitchhiking easier
You may think that hitchhiking was something that died out at the tail-end of the 1960s, but a Danish group called Blaffernation wants to change all that. In a pilot project, three sculptures have been set up by the organisation designed to act as stopping places for hitchers and drivers. The designated places are at Fisketorvet and two spots near the motorway at Folehaven. The sculptures will be in place until November 1 this year, after which time they will be replaced by proper signs set up by Copenhagen Municipality to make motorists aware of hitchhikers. The project is initially due to run for two years.
New technology can help you park your bike
If you have been feeling frustrated trying to find a space to park your bike in Copenhagen, help is on the way. At the moment, a lot of bike parking slots are occupied by abandoned bikes. In 2016 alone, 11,050 bikes were found abandoned at Metro and train stations and around residential areas. To alleviate the problem, Copenhagen Municipality has now decided to use an algorithm, combined with a map showing places where unwanted bikes can be disposed of. Since 2013 the municipality's workmen have been recording data on abandoned bikes, and this data forms the basis for the algorithm, which can predict where the greatest chance is of finding abandoned bikes in order for them to be cleared away. That should then free up space for bike parking.