News
Red Cross in hot water with Danes over text message
---
This article is more than 6 years old.
Faced with a major crisis, the aid organisation has perhaps taken a step too far in its attempts to raise funds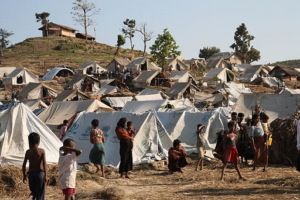 Last night, around 900,000 Danes received a text message from the Danish Red Cross.
"Emergency: Right now, 502,000 adults and children are desperately fleeing from the catastrophe in Myanmar. And in Syria and Yemen, millions need emergency aid. Help us to save lives and support the Red Cross campaign," it read.
"Answer with 'contribute' (50 kr), 'donate' (100 kr). Many thanks. Best wishes, the Red Cross. (To be deleted from the list: send 'delete' 1240)."
However, almost immediately, the message caused a storm of protest on the organisations's Facebook page, with a lot of people venting their displeasure over the fact that the charity has approached them directly via their phones.
Under cover of darkness
"It's just not in order to send a text message in the middle of the night. I've supported the Red Cross often, but this is the last straw. I don't want to receive any more approaches from the Red Cross," wrote Børge Schumacher.
"How can one get access to an ex-directory number? It seems as if there is a communications boss who needs to go back to school. My guess is that this latest stunt will cost you dearly," added Daniel Trine.
As well as the text message, some people were also angry at the fact that it was necessary to send a text message in order to be deleted from the Red Cross list, which might involve paying a 25 øre tariff.
New communications strategy
Klaus Nørskov, the head of communications at the Red Cross, told the tabloid BT that the organisation had purchased access to the telephone numbers through the data and analysis company Geomatic.
"We've sent a text message to 900,000 telephone numbers. It's a new initiative in connection with our country-wide collection, and we've done it in order to reach the highest number of people considering that we need to raise the greatest amount of money possible for the vulnerable people in the world," said Nørskov.
Not all 'disgusted of Tunbridge Wells'
There were also one or two people who seem to have found the message helpful.
"Dear Red Cross, nice to receive the text message and much easier for me. Now, with a couple of clicks, I can donate what I like," wrote Mette Weirsøe.
"To all those who are offended about the message: you can just delete it. How hard can it be? Certainly, quicker and less time-consuming that complaining about it."