News
Sports News in Brief: The Danish pedigree of Tottenham's in-form wing back
---
This article is more than 6 years old.
In other news, can Nadim settle in at her new English club as well as Andreas?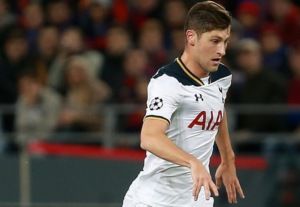 An article in Britain's Daily Telegraph has revealed how Tottenham Hotspur's in-form wing back Ben Davies spent a formative three years in Viborg between the ages of 8 and 11.
Davies, who moved to Jutland after his father Alun took a job producing central heating pumps, joined a local academy where the emphasis was on control, passing and movement, not size and brawn.
"It was a lot more technical and organised at that age," the Welsh international told the newspaper.
"At that level I also found that the quality was better. It's something they should do more here."
---
Andreas in the ascendancy
An article on the BBC website mourning the lack of Premier League playing time afforded to English youth internationals presents a case study concerning Chelsea defender  Andreas Christensen, who after spending several years out on loan has started to regularly appear in the first team – five starts so far this season. It has not been easy though. Since joining in early 2012 aged 15, there have been seven first-team managers, but Chelsea showed its confidence in the young Dane this summer when it turned down an offer from Bundesliga outfit Borussia Monchengladbach, where Christensen had spent the last two seasons on loan.
READ MORE: Six to watch for 2018
Huge contract for NHL youngster
Nikolaj Ehlers has signed a new seven-year contract worth 265 million kroner with the Winnipeg Jets – the most lucrative ever deal signed by a Danish ice hockey player. Ehlers, still only 21, was signed in the first round of the NHL draft by the Canadian club in 2014. Last season, he scored 25 goals and 39 assists, ranking him third at the club and 30th equal in the NHL. In total he has scored 40 goals and 62 assists in 154 matches.
Tickets on sale for CPH Winter Games
Tickets sales have started for the Copenhagen Winter Games, which will take place on November 3 and 4 at the B&W Hallerne on Refshaleøen. Among the 120 participants from 25 countries at the 2018 Winter Olympics warm-up event are some of the world's leading skiing and snowboard stars, while there is also an extensive entertainment program including Mø and Alex Vargas.
Our lass Nadia
Nadia Nadim speaks nine languages fluently: Danish, English, German, Persian, Dari, Urdu, Hindi, Arabic and French. However, her biggest challenge lies ahead: Mancunian. Ahead of her high-profile move from US side Portland Thorns to English Super League champs Manchester City this January, Nadim has told her new club's website: "It just takes hard work and a belief in yourself and [in the immortal words of Dolly Parton] dreams do come true." No doubt after a few months in Manchester, she'll learn to 'roll with it' and start quoting the locals.