News
Danish News in Brief: Mushroom-collecting can seriously damage your health
---
This article is more than 6 years old.
In other stories: no parole for Naum Conevski and a rare albatross is sighted off Denmark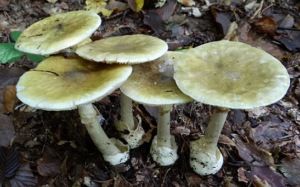 The number of Danes suffering adverse effects from eating wild mushrooms is growing and the trend worries Niels Ebbeshøj, a senior doctor from the toxicology information service Giftlinjen, reports DR Nyheder.
"It's amazing how brave the Danes are when they go out and pick wild mushrooms," said Ebbeshøj. Even though there are books, apps and YouTube clips with information on which varieties of mushroom to avoid, 10-25 people a year are admitted to hospital to be examined for liver damage as a result of eating poisonous fungi that can potentially be fatal.
Although there have not been any deaths in Denmark in recent years, according to Martin Vestergaard from nature organisation Danmarks Naturfredningsforening, the death cap, Amanita phalloides, is the mushroom that kills the most people. It resembles another mushroom found in Southeast Asia, and Thais living in Denmark often think that it is one they know from back home.
---
No parole for Denmark's longest-serving prisoner
The Eastern High Court has rejected Naum Conevski's plea to be released on parole so that he can eventually return home to Macedonia. The court upheld an earlier judgment from Copenhagen's City Court, reports DR Nyheder. Conevski has served 33 years in a succession of secure mental hospitals for the double murder of two young men on Amager Strand.
Rare seabird sightings off north Zealand coast
Ornithological enthusiasts have been flocking to north Zealand in order to see a black-browed albatross. The seabird has only flown past Denmark a few times over the last ten years, TV2 Nyheder reports. Egon Østergaard, the chair of the Danish ornithological association, said that even though the bird is a long way from its home in the South Atlantic, it should be perfectly able to survive. "It lives solely on fish, so it won't go hungry. We've got loads of fish to satisfy its appetite." In 2015 there were a number of sightings at Agger Tange in northern Jutland. Østergaard speculates the bird may have been blown off course or have difficulty orientating itself.
New coffee plant varieties discovered in museum collection
The herbarium at the Natural History Museum of Denmark has the world's fourth-largest collection of plants from the coffee family. Recently, international experts were invited to a workshop to examine this collection. During the course of the workshop, more than 500 unidentified coffee plants and 19 unique specimens were found in the museum's collection. With more than 2.9 million plants collected from all over the world, the herbarium is used for reference, as well as being a potential source for new medicines or new varieties of natural foodstuffs.