News
Government unveils new action plan for homeless
---
This article is more than 6 years old.
250 million kroner earmarked for 15 initiatives aiming to curb increasing number of homeless in Denmark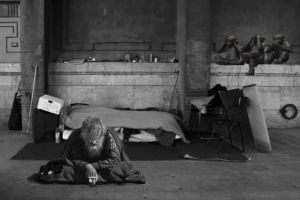 Despite a number of initiatives being launched in a bid to reduce homelessness in Denmark, the number of people without a home continues to rise. In particular, there has been a spike in youth homelessness.
A new government action plan including 15 initiatives aims to address that by setting aside 250 million kroner for a massive slush fund to tackle the issue.
"We know what works in terms of fighting homelessness, and with the government action plan we propose to spread the methods so that the knowledge can be used in practice," said Mai Mercado, the children and social minister.
"The plan focuses especially on young homeless people, who have gone under the radar for far too long until they burn all their bridges and turn up on the street with abuse and psychological challenges. We owe the young people to help them."
The 15 initiatives, documented below, include focusing on prevention and helping the long-standing elderly homeless into a safe and worthy existence.
Read the entire action plan here (in Danish).