News
Traces of 4,000-year-old house discovered in north Zealand
---
This article is more than 6 years old.
Archaeologists carrying out a survey on the site of a new station make a sensational discovery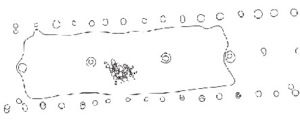 At a site in Vinge, a new town being built in north Zeland, the outline of a large farmhouse from the Late Neolithic Period has been exposed. The house is 45.5 metres long, 7.2 metres wide and dates back 4,000 years.
Archaeologists were surveying the site where a new station will be built when they made the discovery, reports Videnskab.dk.
A wonderful find
"It proved to be a gigantic farmhouse from the Late Neolithic Period. Up until now, we've only seen four farmhouses of this size from this period," said Jens Johannsen, an archaeologist from Roskilde Museum.
"The house is nearly three times as big as other houses from this period, and it is the only one like it in the area," he added.
The two-aisled house may well have housed a Late Neolithic family, their farmhands and livestock. Its size also indicated that the owners were wealthy people.
An emergent upper class
"The Vinge house must have belonged to a member of the upper class of the time because it is so large. In addition, it is enormously interesting because this is the first period when we can see signs of an elite class in society."
Johannsen speculates the owner must have travelled around Europe, making make contact with people who could supply him with bronze. The building style shows signs of other European styles – traits from Germany, among others.
---
Grave-robbers strike in Jutland
In related news, a farmer in northern Jutland was shocked to discover that a large hole had been dug in a burial mound on his land at Klokkerholm.
Grave-robbers seem to have been at work and the hole measured 2.80 x 1.5 metres and 1.5 metres deep, reports Nordjyske.
Sidsel Wåhlin, an archaeologist from Vendsyssel Historiske Museum, was called out to the mound to assess the damage.
"I couldn't believe it. It's totally grotesque. The turf has been cut out in squares and put aside, so it is someone who knew what they were doing," said Wåhlin.
She was unable to say what the thieves might have stolen. However, it was likely the person buried there was of high social status and had also had their worldly goods buried with them, and that might include artefacts made of precious metals.
The burial mound had never been previously examined or precisely dated, but Wåhlin thinks was formed during the Bronze Age.