News
Denmark leads the way in data innovation in the EU
---
This article is more than 6 years old.
Innovative use of data to create social and economic benefits increasingly becoming a boon to Europe's economy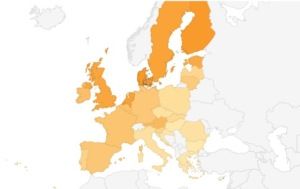 When it comes to data innovation in the EU, no countries compare to Denmark – at least according to a new report from the Center for Data Innovation.
The report (here in English) listed Denmark as the leader in the EU with a score of 71.14 out of 100, ahead of Finland (69.36), the Netherlands (65.82), Sweden (64.95) and the UK (63.47).
"The top five countries in data innovation are Denmark, Finland, the Netherlands, Sweden and the UK. Member states with higher per-capita income generally have higher scores than nations with lower incomes," the report found.
"The Nordic countries were strong performers across most of the indicators in the data category, with Finland exhibiting the strongest resistance to libel chill. Denmark ranked only ninth for 'Freedom of Information', but performed very well for 'Open Data' (fourth place) and other data indicators."
READ MORE: Denmark best in the world at developing green energy tech
Southern discomfort
Denmark ranked top for a number of parameters, including 'Data Sharing in Health', 'Corruption', 'Technology', 'E-Government', 'Broadband in Business', and 'Education & Civil Society'.
At the other end of the spectrum, Bulgaria, Cyprus, Greece, Hungary and Croatia fared poorly, all scoring under 30 out of 100 overall.