Things to do
Don't miss Culture Night … although to be fair, it's hard to avoid it!
---
This article is more than 6 years old.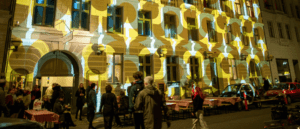 Culture Night has held its place for more than 20 years as one of the most enticing events of the year for art, food and history lovers in Copenhagen.
With more than 250 museums, theatres, libraries, churches, ministries and parks participating, the city's biggest annual one-day event continues to delight and surprise citizens and visitors alike.
Explore the Royal Opera House with backstage sneak peaks in one of the newest architectural marvels of Central Copenhagen.
The National Gallery will be open to all visitors with Culture Night tickets, explore the pieces ranging from Europe's medieval era to modern African landscapes.
Or peruse a more politicised environment with a tour of Danish Parliament as the whole of historic Christiansborg Palace is open for the night. Sit in the chairs of High Court justices in the Supreme Court just across the Palace's courtyard for a more legal perspective.
Music more your taste? Tap your toes to the sounds of Danish jazz musicians at Kvarterhuset, Denmark's premier music house.
Or push the boundaries of your imagination at STORM20 by getting your hands on electro-electro-luminescent wires to create a new light installation for the city centre.
With such a wide array of events, walking down any street in Copenhagen on Culture Night is bound to lead you to a full access venue.