News
Allez les Bleus: Denmark seeded for World Cup playoffs
---
This article is more than 6 years old.
Danes get some help from France and Ireland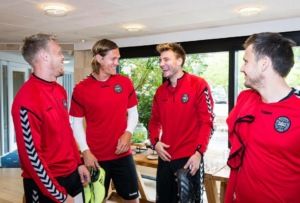 When the draw for the World Cup playoffs takes place next Tuesday, Denmark will be in the seeded hat along with Italy, Croatia and Switzerland. And they can thank France and particularly Ireland for that.
When Ireland knocked out Wales on Sunday night, they paved the way for a Danish seeding providing France won their group ahead of Sweden. The French duly delivered with a 2-1 win over Belarus last night.
The results mean that Denmark can draw one of four countries next week. Those nations are Ireland, Greece, Northern Ireland and Nordic nemesis Sweden, who knocked the Danes out of the Euro 2016 playoffs two years ago.
Because Denmark failed to beat Romania on Sunday, they had to rely on the results in the other groups going their way.
In related news, the ratings for Denmark's match against Romania on Sunday showed that 1.271 million Danes tuned in to watch on Kanal 5, a record for owner Discovery Networks Denmark.
READ MORE: Denmark throws away precious win against ten-man Romania
Young guns firing
Elsewhere, the Danish under-21 team continued with their dominance in their Euro 2019 qualification campaign.
First Georgia were beaten 5-2 in Aalborg last Friday, before Finland were dismantled 5-0 in Helsinki yesterday evening.
The result puts Denmark firmly in the lead of Group 3 on maximum points from four games. Up next will be the real challenge, however, as they travel to Poland next month.