News
Danish News in Brief: Travel congestion expected as schools close for autumn holidays
---
This article is more than 6 years old.
In other stories, close encounters with deer and DONG shares sold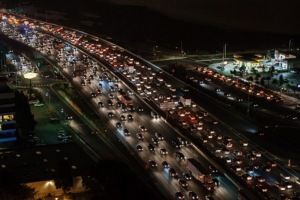 Schools in Copenhagen are breaking up for the autumn holiday and roads and railways will soon face the inevitable surge in traffic.
Niels Tørslev, the traffic director at the road directorate Vejdirektoratet, predicts  the heaviest traffic will be on Saturday, but already on Friday the roads will be busier than normal. This will repeat itself next Saturday, when people return home from their holidays, reports Metroxpress.
The autumn holidays have become synonymous with holiday travel for a lot of Copenhageners who tend to leave the capital in a westerly direction and then return to the capital from the south.
Train passengers are also going to have to be patient, but primarily at the weekend, according to Tony Bispeskov from the Danish state railway DSB.
"There are no major track engineering works planned for the period, but during the first weekend there will be buses between Roskilde, Køge and Næstved because a new signalling system is being tested."
Copenhagen Airport is expecting its busiest day today, with an expected 101,700 passengers passing through the airport.
---
Watch out! Deer about!
From October to January, and then again in May, there are an increasing number of incidences of motorists colliding with deer on the Danish roads. This year is no exception. In the first nine days of October this year, the alarm centre of the animal protection organisation Dyrenes Beskyttelse has received 290 calls concerning animals being hurt in collisions, TV2 Nyheder reports. Most of them take place between 06:00 and 08:00 in the morning or from 18:00 to 23:00 at night because of the darkness. Colliding with a deer can have serious consequences for both parties, so drivers should be extra careful. Should you be unlucky enough to hit a deer, you should call the alarm centre on 1812.
Goldman Sachs sells remaining DONG shares
The American investment bank Goldman Sachs has sold its last block of shares in the Danish energy group DONG, reports DR Nyeheder. Figures show that the investment was an extremely lucrative one, as the investment bank ended up with a profit of 12.4 billion kroner, having bought 19 percent of DONG's shares in 2014 at a price of 8 billion kroner. DONG was launched on the stock market in June last year, and in that connection Goldman Sachs sold 25 percent of its shares, which covered over half the bank's total investment costs. The shares continued to rise and already now are worth 50 percent more than when they debuted on the stock exchange in 2016.