News
Sports News in Brief: Woz on fire at WTA Finals
---
This article is more than 6 years old.
Caroline isn't the only one with strong prospects, with the national dressage team and sailing outfit Team SAP all looking like the cat that got the cream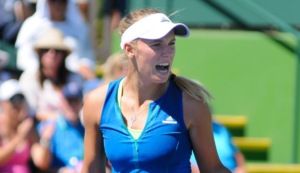 Caroline Wozniacki has made an audacious start to her bid to win the prestigious end-of-season BNP Paribas WTA Finals in Singapore.
She destroyed the fourth seed Elina Svitolina, a player she had never defeated before in three previous matches, dropping just two games in a 6-2, 6-0 demolition.
Better than 2010?
Next up for the sixth seed is Simona Halep tomorrow. The Romanian world number one was similarly convincing in her defeat of Caroline Garcia, a player Woz will need to beat should she lose.
Wozniacki's best performance in a WTA Finals, which is contested by the world's top eight players at the end of every season, was reaching the final in 2010, where she lost to Kim Clijsters.
Woz is a 5/1 fourth favourite to take the title this year.
---
Danes miss out on FIFA awards
The women's national football team's former coach Nils Nielsen unsurprisingly missed out on claiming the Best Fifa Football Award for top trainer in the female game last night in London, losing out to Sarina Wiegman, the same Dutch trainer who defeated his side in the final of Euro 2017. FC Copenhagen, meanwhile, missed out on the fans' award. A special moment in which one of the club's disabled supporters lifted the Danish Cup was trumped by the Celtic faithful's all-stadium tifo dedication to the 50th anniversary of the Lisbon Lions triumphing.
Haas boss still has Mags's back
Despite a disappointing season in Formula 1 in which Kevin Magnussen has  amassed 15 points whilst ruffling plenty of feathers out on the track, his boss at Haas would appear to have his back. Speaking to espn.com, Guenther Steiner said it was a sign of a good driver that Magnussen was getting in squabbles with drivers expecting him to let them pass on the track. "At first you can get a bad reputation but then you can get a good one," contended the head of Haas. In one incident, Mags told Nico Hulkenberg, who had just sarcastically congratulated him on being unsporting: "Suck my balls, mate".
Denmark odds on to win at Parken … just
Denmark are ranked the 19th most likely team to win the 2018 World Cup. Most bookmakers are offering either 125 or 150/1 on the red and whites triumphing in Russia. But first they will have to dispose of the Republic of Ireland, with most bookies rating them 10/11 favourites to cross the North Sea with a lead heading into the second leg, with Ireland 7/2 to triumph at Parken. The ties will be played on November 11 and 14.
Danish team on course to win Extreme Sailing Series
A Danish sailing team is on course to win the Extreme Sailing Series, a global short-course circuit contested by some of the world's top sailors competing on GC32 catamarans. Ahead of the final leg in Los Cabos, Mexico starting on November 30, Team SAP need to finish in the top five to claim the title – a realistic proposition given their lowest position in the previous seven races was fourth.
Dressage prospects lifted by strong show
Danish equestrian star Cathrine Dufour, 25, could be a name to watch out for at the 2020 Olympics. Onboard her 14-year-old horse 'Atterupgaards Cassidy', she triumphed in the opening leg of the FEI World Cup Dressage Western European League, which was held in Herning over the weekend. Team-mates Anna Zibrandtsen, Agnete Kirk Thinggaard and Anna Kasprazak also placed well, raising hopes Denmark could be a contender in the dressage team event in Tokyo.