News
Denmark sends huge aid contribution to Iraq
---
This article is more than 6 years old.
Government earmarks 135 million kroner to help internally-displaced Iraqis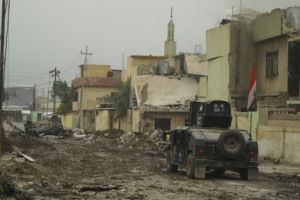 Yesterday the Danish government pledged to send 32 million kroner to help the plight of the Rohingyas in Myanmar and Bangladesh. Today, it was Iraq's turn.
The government has set aside 135 million kroner to be sent to aid internally-displaced Iraqis and stabilise areas that have been liberated from the jihadist organisation IS.
"It is critical that Denmark, with our many years of strong engagement in Iraq, helps solve the challenges that the local population faces in the wake of the terrible destruction that IS has caused," explained the development minister, Ulla Tørnæs.
READ MORE: More Danish aid heading for Rohingya refugees
Mosul mayhem
The Danish support will be concentrated in the Ninewa region of western Iraq, including the main city of Mosul, which was only recently liberated from the clutches of IS following a three-year occupation and nine months of intense fighting.
The aid package, which will be incorporated as part of a long-term UN effort, will need to be approved by Parliament.