News
Snow on the way … if you believe TV2 (well do you?)
---
This article is more than 6 years old.
Given the Danish broadcaster's recent forecasts, you'd be forgiven for being sceptical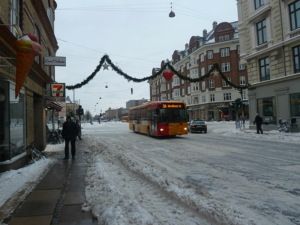 TV2 is developing a reputation for jumping the gun with its weather stories. Just this year, it predicted a gale that never arrived in April, and an Indian summer in October that left us shivering in our swimsuits – it's this country's answer to the Daily Express and, god forbid, it's becoming as bad as national forecaster DMI.
And next Monday, the meteorologists over at TV2 Vejret are bravely forecasting the first snowfall of the season.
Cold front, low temperatures
A cold front is moving in on Sunday, bringing in low pressure that TV2 suggests "may possibly" bring some snow, with north Jutland and north Zealand the areas most likely to be hit. However, it stresses, it will be flecks at best.
According to DMI, temperatures are expected to fall to just one degree above zero over the course of Monday night in the Copenhagen region, south Denmark and north Jutland, but it is not forecasting any snow.
Snow last fell in this month on 25 October 2012, and the record for the earliest snow of the season was set on 16 October 1992.