News
Culture News in Brief: Pilou claims credit for 'Game of Thrones' transformation into rock star
---
This article is more than 6 years old.
And Euron Greyjoy isn't the only one. The stars of Claes Bang and Amelia Hoy are fast ascending, while the prospects of 'Du forsvinder', 'Pound for Pound' and 'The Charmer' are getting better by the minute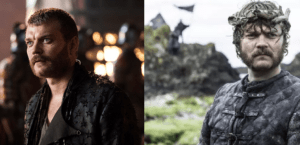 Pilou Asbæk has revealed in an interview with out.com that it was his idea to transform his character in 'Game of Thrones' into a "psychopathic pirate lothario" in season seven.
In season six, Euron Greyjoy had been a "run-of-the-mill dastardly villain", but Asbæk persuaded series creators David Benioff and DB Weiss to give him a new haircut, dark eyeliner and a swagger.
"I wanted to make him a rock star," said Asbæk of the character who is seen trying to woo Cersei Lannister.
Darkness comes from home
The interview didn't solely concern 'Game of Thrones', with Asbæk predictably being asked about Danish hygge, happiness and grisly crime series.
On being among the world's happiest people, he pondered: "Maybe we're very good at lying when we're doing these polls. Because why should we be happy?"
"It's raining 40 percent of the time. And it's dark 50 percent of the year," he added.
READ MORE: Danish actor 'tenth most popular in the world'
---
Danish star in the ascendancy
Claes Bang, the 50-year-old Danish star of the Swedish Palme d'Or winner 'The Square', has not let his new-found fame go to his head despite his success under the direction of Ruben Östlund ('Force Majeure'), reports vulture.com. Since its release in May he has been sent 50 scripts, including one big Hollywood production and two British thrillers – 45 more than he would normally get in an average year. Nevertheless, Bang continues to work in Danish productions. He has just finished filming a Danish translation of 'The City' by British playwright Martin Crimp and he is also starring in a Danish Christmas show. Previously Bang's biggest role was in 'Broen' and just last year he was appearing in a fringe play at CPH Stage. 'The Square' hits Danish cinemas on November 23.
READ MORE: Calling all Copenhagen's culture vultures: All the city's a stage!
Danish actress very much in vogue
Amelia Hoy, an American-Danish mixed race actress who cut her teeth on Danish shows 'Kærlighed og andre katastrofer' and 'Dicte' has been interviewed in Vogue following a breakout part in a new film 'Tom of Finland' – a sign that her star is rapidly rising. Raised in a creative community in San Francisco, she relocated to Scandinavia as a child and attended the Danish National School of Performing Arts. Hoy recalls it was "difficult growing up [in "unenlightened" Denmark] in the late '90s" due to her skin colour, but that things have changed and she has since become a "part of a bigger society that is making their voices heard". She also had some Danish fashion advice. "If you come here in the summertime, some people are switching their outfits more than Mariah Carey," she said. "They have a lot of dresses to get through in like three days because it's going to be cold as a motherfucker in a minute!"
No danger of disappearing
The North American distribution rights to Denmark's foreign language Academy Award nominee 'Du forsvinder' ('You Disappear') have been snapped up by Gravitas Ventures, which plans on releasing the film shortly after the Oscar ceremony in late February. Peter Schonau Fog's film – which co-stars Trine Dyrholm, Nikolaj Lie Kaas and the late Michael Nyqvist – will first have to make a nine-film shortlist in December and the final selection of nominees in January.
READ MORE: Oscar committee choose yet another film starring Denmark's answer to Meryl Streep
Knockout deal for boxing drama
Dutch Features Global Entertainment has picked up the global rights to distribute Danish boxing drama 'Pound for Pound'. Released in Denmark in June, the film was produced by Nimbus Film and directed by Mikkel Serup. It is based on the story of boxer Jorgen Hansen, who credited an encounter with a young African boxer in turning his career around to become European welterweight champion in 1977 aged 34.
High hopes for comedy about Danish prisons being soft
Production has wrapped on 'Denmark', a new British comedy starring Rafe Spall as a Welshman who sets his heart on living in a Danish prison after hearing how comfortable they are compared to accommodation in Wales. "'Denmark' is a little jewel of a film. Adrian [Shergold]'s singular vision matched with the delicate warmth of Jeff Murphy's script echoes the humour and humanity of filmmakers like Alexander Payne and Bill Forsyth," claims BBC Films. WestEnd has acquired the global rights.
READ MORE: New British film laughs at the soft nature of Danish prisons
Another award for Danish-set film 
'The Charmer', a film directed by Iranian-born, Danish-based director Milad Alami, won the NDR Film Prize at the 59th Nordic Film Days over the weekend. The film tells the story of a young Iranian man trying to win the heart of a Danish woman so he can marry her and stay in the country. It had previously won the Fedeora Prize at the San Sebastian International Film Festival.
Danish slaughter remembered
British playwright Keith Foster's new play, 'The Bloodbath of Stockholm', depicts the events of November 1520 when the Danish army took over the Swedish capital and executed 100 of its citizens. At the time Christian II of Denmark also ruled Norway and southern Sweden. The play is being staged at Musikvalvet Baggen, a venue in a Stockholm cellar dating back to the 14th century, from November 16 to December 2.
READ MORE: Bit like that scene in The Godfather, but with more decapitations