News
Copenhagen among top European cities for investment for 2018
---
This article is more than 6 years old.
Capital jumps four places to snag a second place tie with Frankfurt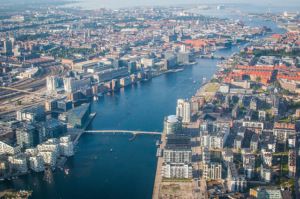 The city of Copenhagen has been ranked among the top five cities most attractive for real estate investment and development, according to Emerging Trends in Real Estate® Europe 2018.
Copenhagen – sharing second place with Frankfurt – joins Berlin, Madrid and Munich in the top five. The Danish capital rebounded four places in this year's forecast, published jointly by ULI and PwC, which is based on the opinions of over 800 property professionals in Europe.
"It is positive to see that Copenhagen, after slipping a little last year, is back on the list," said Jesper Wiinholt, a partner at PwC. "This is primarily due to the city's strong housing sector, where there has been a continuous recovery in investment in residential real estate."
Location, location, location
The strong growth in the residential property sector in Copenhagen has attracted attention from the international real estate industry.
"Denmark's capital is very popular with tourists, consumers, business communities and brands in the retail, food and entertainment industry, making the city all the more attractive to investors," said Wiinholt. "Copenhagen is also increasingly open to international investors who show interest in buying assets."
Frankfurt rose second equl after a year of solid growth, much of which has come from the financial sector in the aftermath of Brexit.
At number four is Munich, which while expensive has remained an attractive market for investors and developers alike.
Madrid, benefiting from positive office rental growth prospects, jumped four places to take fifth spot.
For the fourth year in a row, Berlin took the top spot in the rankings.
READ MORE: World Bank: Denmark among top countries for doing business
Brexit woes
According to the report, the property industry is cautiously optimistic about its overall European business prospects in 2018. Around half of the survey respondents predict that profits will increase next year and 42 percent expect an increase in business confidence – a 10 percent jump from last year's results.
Several issues are still worrisome for investors, with Brexit remaining a key concern.
"Brexit remains a challenge for the real estate industry, but it has had a positive effect on the German cities," said Wiinholt.
"Although the degree of pessimism regarding Brexit has fallen considerably since last year's report, the uncertainty surrounding the conditions for Britain's withdrawal of the EU has been a source of frustration."