News
Copenhagen named best family-orientated city in the world
---
This article is more than 6 years old.
Danish capital hailed for being safe, happy and offering outstanding parental laws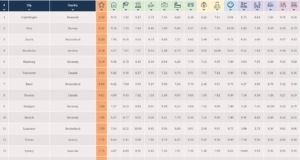 Copenhagen is unparalleled when it comes to family life, according to a newly-published index from the German-based online housing portal Homeday.
The 2017 Best Cities for Families Index (here in English) ranked Copenhagen first with a score of 8.43 out of 10, ahead of Oslo, Zurich, Stockholm and Hamburg.
The ranking is based on scores in 15 indicators: Education System, Housing, Safety, Cost of Living, Unemployment, Pollution, Transportation, Maternity/Paternity Law, Healthcare, Happiness, Kid-friendly Airports, Activities for Kids, Green Spaces, Parents, and Professionals.
READ MORE: Copenhagen among top European cities for investment for 2018
European domination
Copenhagen scored particularly high in the Parents (1st), Professional (2nd) and Happiness (2nd) indicators, as well as in Housing (4th) and Safety (9th).
Vancouver, Basel, Toronto, Stuttgart and Munich completed the top ten, while 13 of the top 20 cities were located in Europe.
Other cities of interest were Sydney (13), Helsinki (14), Melbourne (15), Amsterdam (21), Berlin (26), London (30), Tokyo (37), Paris (44), New York (47), Madrid (49), Honk Kong (55), Seoul (56), St Petersburg (59), Reykjavik (61), Beijing (71), Rome (78), Chennai (88) and Sao Paulo (93).