Things to do
Mark December 3 in your diary for winter bathing and watch the thermometer plunge!
---
This article is more than 6 years old.
Vinterbad Byggen's free monthly Sunday opportunity is a great opportunity to try it out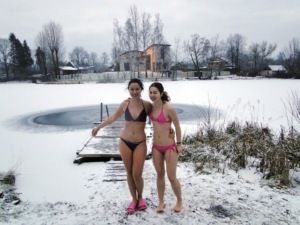 Bathing in the waters of Copenhagen Harbour is a popular activity in the summertime when the days are long and the heat borderline unbearable. Fortunately the winter bathing club Vinterbad Bryggen erases the power of the weather to dictate when you should and should not swim.
While membership is necessary to enjoy the privilege, you can treat yourself to an icy dip in the misty waters of Island Brygge on the first Sunday of every month, which is reserved for guests – and this does not require you to know a member to try it out.
Following the cold shivers, you can work your body temperature back up by taking a seat in a steamy sauna. This contrast therapy, shifting between the ice cold and the sweltering heat, is highly regarded for its health benefits. It flushes out your toxins and increases your blood circulation.
So, if you had too much eggnog or cider at your Christmas party the night before, this Guest Day provides an unconventional relief to your hangover and a chance to experience what Vinterbad Byggen is all about.
An annual membership lasts from October to April and costs 825 kroner (an initial 425kr membership fee, and an annual payment of 400kr).
Vinterbad Bryggen is Copenhagen's own version of the Icelandic Blue Lagoon, so take off your gloves and scarves, and put on a swimsuit, just like our intrepid reporters did in December 2015 (see link below).
READ MORE: Testing the waters, winter bathing: Freeing the mind or just plain freezing?