News
Danish politicians condemn Trump's 'Jerusalem' decision
---
This article is more than 6 years old.
Once again a decision by the controversial US president has caused division amongst his European allies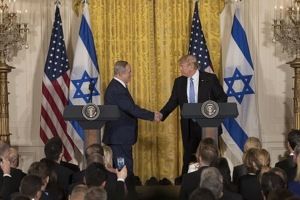 Last night's press conference by US President Donald Trump in which he jettisoned long-standing US foreign policy and announced it was time to recognise Jerusalem as Israel's capital has caused consternation amongst his allies, including those in Denmark.
As a consequence of this, Trump also intends to move the US embassy in Israel from Tel Aviv to Jerusalem.
Petrol on the blaze
A number of Danish parties have released critical statements after the event, reports DR Nyheder.
"We're talking about a potential atomic bomb that he's dropped into a very tense situation," said Michael Aastrup Jensen, the foreign policy spokesperson for Venstre.
Holger K Nielsen, the foreign policy spokesperson for SF, concurred.
"This is extremely serious because Israel now feels it can do almost anything with the backing of the US," he said.
"This is counterproductive in relation to the peace process between the two parties and shows the US has unilaterally taken the Israeli side," he added.
The decision was not a complete surprise because a spokesperson for the Palestinian President Mahmoud Abbas had already revealed that Trump had already told Abbas of his decision.
"When the US opts for this one-sided recognition, it makes it very difficult to find a solution to how the peace process should be handled in the future," said Nick Hækkerup, the foreign policy spokesperson for Socialdemokratiet.
Keeping in step
However, Dansk Folkeparti is completely behind Trump's policy. "I believe that Denmark should also move its embassy from Tel Aviv to Jerusalem. It would be very appropriate for Denmark to keep in step with the US," said DF's foreign affairs spokesperson, Søren Espersen.
Espersen thinks it would be a good thing if Denmark officially recognised Jerusalem. "That would be a really fine gesture and I hope it will occur. I don't hold out great expectations but it's something that Dansk Folkeparti has wanted for many years."
He also rejects the argument it will damage the peace process: "There is no peace process in progress and there hasn't been for years. Since Israel withdrew from Gaza, there has been no interest in it."