News
Danish supermarkets ready with sensational vegetarian option
---
This article is more than 6 years old.
Vegetarian community hails new product as a "world sensation"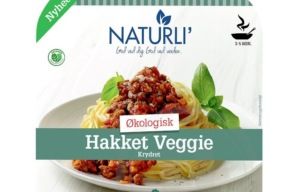 With 2017 coming to an end in a few weeks, it's time for 2018 to show its face. For Danish supermarket chain Dansk Supermarked, the transition not only marks a new year, but new beginnings as well.
As of January 2, it will be possible for customers to purchase a vegetarian alternative to minced meat in all 600 supermarkets (including Netto, Bilka and Føtex) owned by Dansk Supermarked.
Rune-Christoffer Dragsdahl, the secretary general of the Danish Vegetarian Association, welcomed the news, calling it a "world sensation".
"This is the first product in the world that combines high accessibility with a price that is comparable to conventional minced meat. That is very unique," Dragsdahl told Politiken newspaper.
READ MORE: Danes buying more vegetarian substitutes for meat and dairy
A 'meaty' cocktail
The vegetarian minced 'meat' is made completely from plant material such as wheat, soy, beetroot, tomatoes and mushrooms, which when combined yields the same structure, protein, colour and taste as minced meat.
The product is called 'Naturli'Hakket' and it is produced by the one of the leading plant-based food producers in Denmark, the Aarhus-based company Naturli' Foods.