News
Winter really is coming as Iron Throne touches down in Copenhagen
---
This article is more than 6 years old.
Take the opportunity to enjoy the ultimate 'Game of Thrones' selfie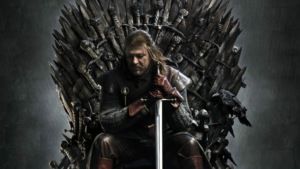 You've had your photo taken with the World Cup trophy – and hanging off various bridges and buildings.
That's you standing in front of the grassy knoll, and then the Texas School Book Depository. Next stop, the Alamo.
The inanimate object bucket list is almost complete. But one photo eludes you. Hurry up! Winter is coming!
Four-day window of opportunity
To mark the release of the boxset of season 7 of 'Game of Thrones', the Iron Throne is taking a mini-tour of Greater Copenhagen.
It's the opportunity for the ultimate selfie and thrill of sitting where a dejected Ned Stark and almost every member of the Lannister family has sat.
First touching down at Elgiganten in Glostrup from December 13-14, the throne will then be heading to Bilka at Field's from December 15-16.